Spaces, construction, rooms etc. what makes them complete is the structure of walls, doors, windows, roofs, flooring etc. Walls gives us rooms, gives us architectural structure to stay in. We should convert these architectural structures into better interiors. Bring life to the walls; after all they are starving for designs, looks, and atmosphere. Wall art, wall decoration, wall stickers, wall textures etc. so many things are awaiting to hug your walls and give them a colorful bright life. If you're lacking with some wall decoration ideas then just wait, take a pause and look for the variety of wall décor items and ideas in the market. Dress up your walls in different ways according to your choices, budget, room size, room color, over all furniture styling etc. Make your walls look better with different kind of paintings, wall décor accessories, hangings etc. It's time to get over vacant and dull walls.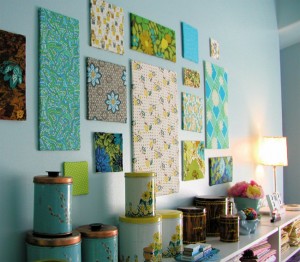 Merely putting up good color or paints to your wall is not just done. You need to improve your wall design tastes by adding up few wall décor accessories and art work. Walls with traditional, modern, contemporary, rough, soft, mix match, abstract art looks provides a finishing touch to your interior design and decorations.  Walls are yours, make them happy and brighter. Room full of well-designed furniture and accessories is not just a well-designed room, until and unless walls are out of the dull looks and boring atmosphere. Create your own world; design your likes on your walls. Frame the picture of freshness and art with the help of wall decorations likes wall stickers, wall paintings, framed fabrics on walls, wall texture paints, open wall racks etc. Bring in the world of feel, art and looks in the same room with such beautiful and wonderful effects and designs.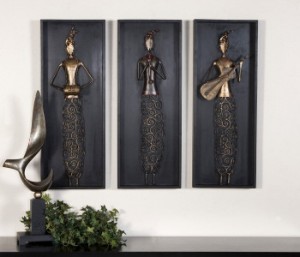 Apart from wall stickers, textures, paintings etc. you can also step in for metal frames, glass paintings, glass mural work, wood works, wall hangings , etc. Let the design of your rooms and walls get connected to each other to get the perfect definition of unity, looks and harmony. Get a picture perfect of well-designed and well-nourished walls of your spaces.  Use contrast based themes for a brighter and lively combination. Add different kind of metal art pieces, metal statutes by creating artificial niche, metal hangings to get an authentic touch of bold and beautiful designing for your walls. You may add up few textures or sticker art to your wall decorations to come out of the monotonous feel of vacant walls. Cultivate your walls with designs and different kind of wall decors because single colored walls may fail to give the desired relaxing feel and comfort of spaces. Don't let your walls fail and fall into the back step of ignorance.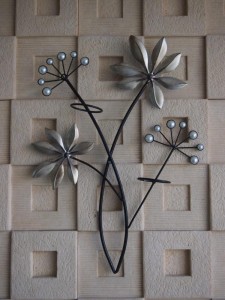 Welcome yourself, your clients, friends, family to the spaces full of energy, colors, brightness and above all liveliness. Such "energy and liveliness" can be achieved by the good and well wall decoration, perfect placement & designing of furniture, amazing showcase of accessories and great effect of natural and artificial lighting. Visual impressions of wall decoration are as important as other designing of the overall space. After all rooms are incomplete without walls and walls are incomplete without proper decoration and dress up material.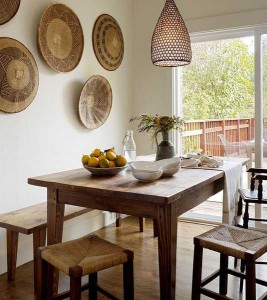 It's a complete pack of Interior Decoration and Designing for your spaces. So, get in touch with these special and attractive wall art and décor's and get the complete pack of designing for your dwellings, offices, showroom etc. Let your walls speak the language of your style, attitude, designing and decorations. Bring home happiness by just adding little dress up material for the walls.

comments