If you are tight at budget and need to help in preparing for a wedding reception then this article would be your best shot. We are going to recommend you some of the finest ways to utilize indoor string lights that seem romantic and cost-effective at the same time.
Read till the end to find out what is necessary in this regard when it comes to decorating a wedding reception.
We all know that wedding is considered to be an auspicious event all over the world and on this big day we all want it to be outclass and exceptional in every way possible. There are different things that can be done if you need to decorate your wedding reception by keeping in mind a few tips through which you can leave a huge impact.
Below are some of the main elements that can enhance the joy of a wedding reception, so just have a look and learn how to decorate it by using indoor string lights.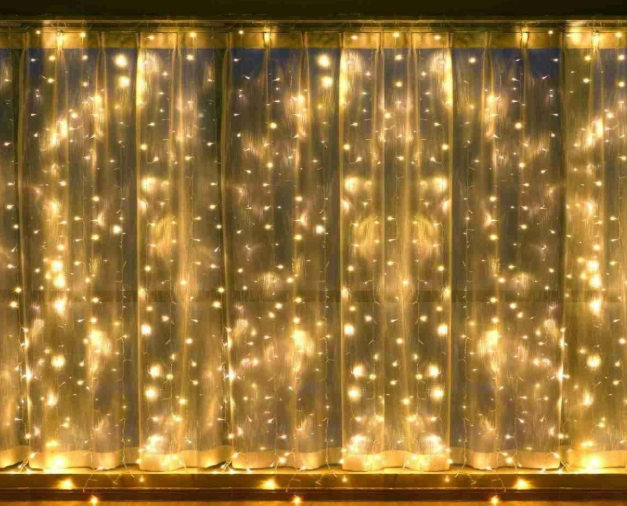 Decoration with Too Many Lights
To decorate your wedding reception using too many lights would never be bad or too much. You can use unlimited lights to increase the illumination with the help of some amazing glittery string lights by koopower and a table set with candles. They would really look good and leave an eye-catching impact on the audience.
Pillar Candles and Lit-up Coils

You can also try lights that have pillar candles and lit-up coils as they can work as an out of the ordinary and convenient way to make the walk to the reception more noticeable. Try hanging indoor string lights for wedding reception from the ceiling of this event as it alters the setting into a fanciful heaven.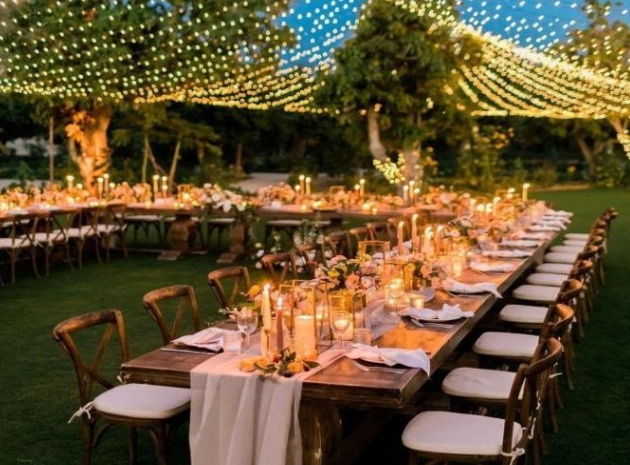 Combination of Sparkling Lights and Flameless Sparkles
Apart from that, wedding lighting indoor ideas can be amplified by using a combination of sparkling lights and alluring flameless sparklers will have your wedding guests induced that they're dancing under the stars. With the help of thousands of string lights embellishing a clear wedding tent, the space can be changed into a captivating nighttime scene.
Decorating Over the Dance Floor
In case you don't want to hang lights over your whole reception space and need to highlight one particular place such as the bar or dance floor, then you can also craft a little floor plan by only using hanging Indoor string lights for wedding reception over those areas. By doing that you would be able to draw the attention of the guests to a certain place by giving the best touches to the place.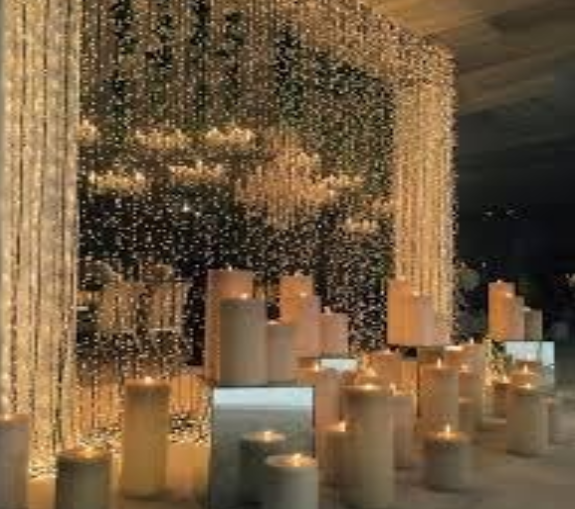 Combining With Other Lighting Options
In case you want to use too much light into your reception space, paper lamps on the ground combined with string lights above will help you in making a comfy and well-lit place. If you are not sure how much light you exactly need then you need to give your reception space a brief tour after dark to get to know about it.
Wrapped Around Main Areas
There would probably be a particular thing that you actually want to look out of the ordinary like a custom floral monogram or lamps hung from the ceiling? Then you need to cover a string or two of lights around your favorite piece and switch them on in the evening. You will see that with the help of those wrapped string lights you would be able to brighten the grace of a specific place.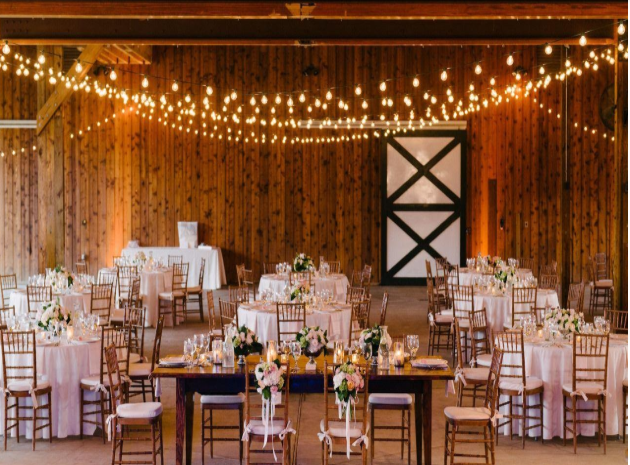 Making Faux Tent
In case you need to have a little discussion with your lighting specialist by keeping in mind your budget then don't be late. Show them your space and allow them to give you a few wedding lighting indoor ideas so you know how they could revitalize your inner space with the help of making a string light tent. 
Indoor String Lights for Wedding Backdrop
By decorating a wall with the help of string lights will leave a wonderful impact on the inner space of your wedding reception. To make it look more appealing you can use a shade behind your cake table for an extraordinary dessert display, or line the back of your photo booth for an attractive indoor string lights for a wedding backdrop.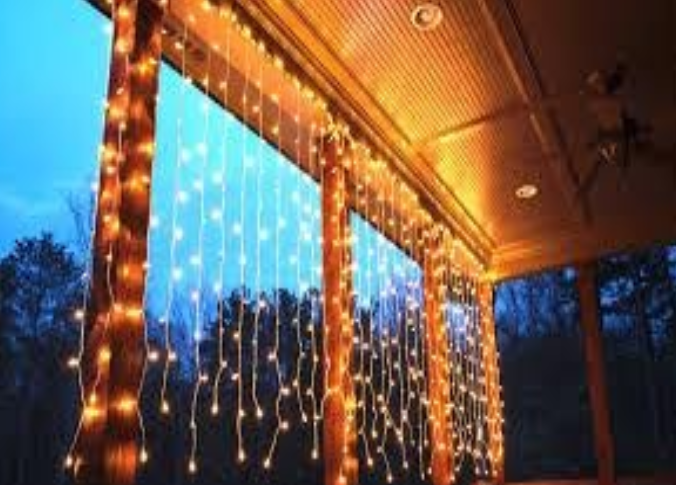 String Lights above Outdoor Reception Tables
You can also create a roof over your outer reception tables with rows of suspended lights. By adding lighting above your head will also be convenient once the sun sets not to as it enriches a fanciful atmosphere.
Wrapping around Rafters
There is no doubt about the fact that uncovered rafters look really appealing and increase the architectural details that most of the time people don't notice, so by decorating them up with a few rows of additional lights you can attract most of the guests in the wedding reception.
From Dusk to Dawn
The grace of indoor string lights at the wedding reception modifies an external area as the sun sets. You can try out the hanging twinkle light installation that really became noticeable after sunset and have a huge role in highlighting the twinkling of the candle lights on the tables.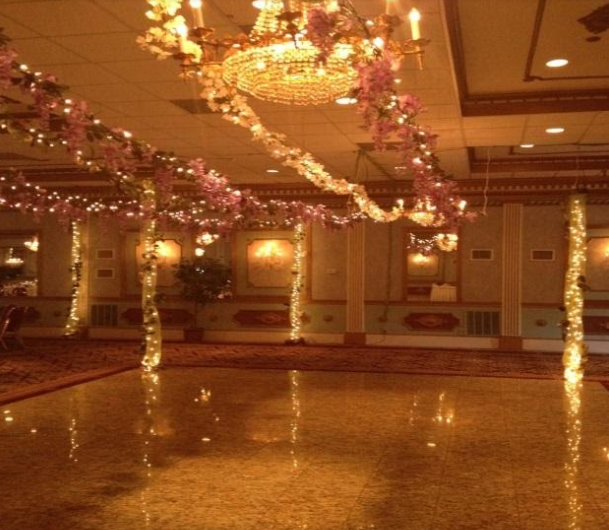 A Canopy over Dinner
A blind over the dinner table would really look wonderful over the indoor string lights. They seem out of the ordinary and speak for themselves as the lighting over dinner by this way increases the beauty of the event by combining itself like a gigantic awning on this promising event.
Final Words
The above listed Wedding Reception Décor Ideas with Indoor String Lights are some of the best solutions that can be applied in case you need to make arrangements for yourself or your loved one's wedding. The best thing about these ideas are that they are really cost-effective and don't put a huge financial burden on your shoulders, so just go for it and give your special day an extra touch of beauty by making the most out of these ways and let us know about your experience later. 
comments