A patio that is properly maintained is a good location for bonding and relaxation time with family. Hence, just like any part of your home, you should regularly maintain it. Using the best pressure washer for patios not only brings back its grandeur but also saves your favorite hangout place from getting any damage, such as loose paint and coating on the furniture . According to Bill Allen of OccupyTheFarm, a good pressure washer should go above and beyond the call of duty to help you get things done. Something powerful enough to remove any hard grime in a matter of seconds
To help you out, we've curated a list of best pressure washer for patios, which includes the best gas pressure washer and the best rated electric pressure washer from power washer reviews.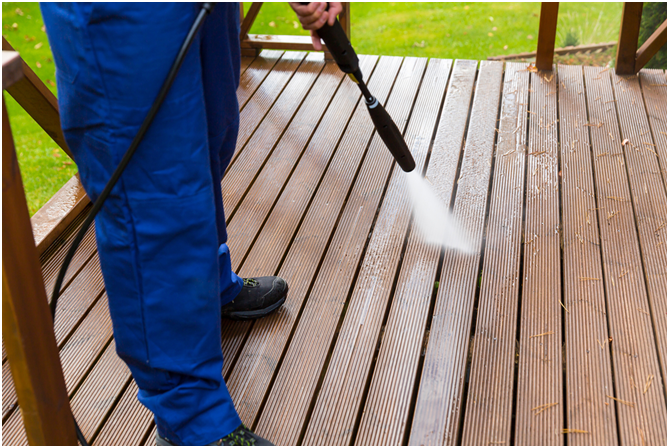 Using the right nozzle tip attachment is also key to controlling the pressure coming from your pressure washer.
A good pressure washer for patios should possess the following properties or features.
What Makes a Good Pressure for Patios?
1. PSI and GPM level
PSI (Pounds per square inch)  is a unit of measurement used to determine the amount of pressure. For patios, it is recommended to have a pressure washer at a range of 1300 to 1900 PSI. GPM (Gallons per minute) is a unit of measurement that determines the capacity of fluid or in other words the volume of how flow rates. For patios, it is recommended to have a GPM of lower than 2.0 so that you can save more water, thus decreasing water bills.
Anything higher than a 2.0 GPM is more than enough and can be considered for quick commercial tasks.
2.  Nozzle tips
Choosing the right degree of nozzle tips is essential for efficiently cleaning your patios. A 0-degree nozzle is the narrowest, and it will deliver the strongest pressure. A 40-degree nozzle, on the other hand, has a wide spray coverage but the pressure will be decreased. For patio cleaning, avoid using nozzle tips from the narrow side since they are strong enough to accidentally scratch off wood coating or paint from your patio floor and furniture.
3. Safety
When buying the best pressure washer for patios, you should never compromise your safety. Look for trustworthy brands and choose models which have automatic shut-off, GFCI plugs, and thermal pump protector features.
4. Type of pressure washer
The two common types of pressure washers are electric and gas powered, and both have advantages and disadvantages. See the bullets below for comparison.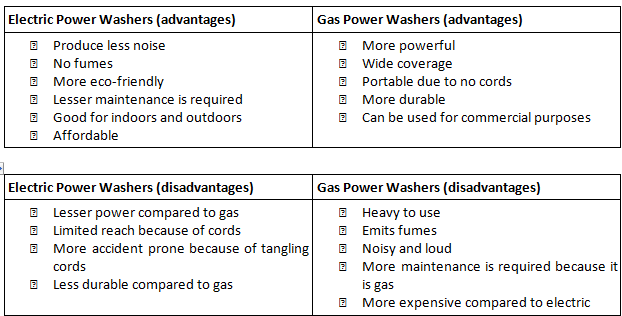 Since we already discussed the qualities of a good pressure washer for patios, it's time to meet these pressure washer models.Which Is the Best Pressure Washer for Patios?
1 . AR Blue Clean AR390SS 2000 PSI
It has 2000 PSI and 1.4 GPM, which are a good spec when cleaning your patios. The four nozzles, namely red – 0 degree, green – 25 degree, black – soap nozzle or low pressure, and rotary nozzle and tips will help you determine the right type of nozzle for the job.
It also has a soap tank located at the back, which has a 48 oz liquid capacity. It has a low flow rate which is perfect for saving your water consumption, especially when used at home or cleaning the patios. It uses 80% lesser water as compared to other models.
2. WEN PW31 3100 PSI Gas Pressure Washer
A gas type of pressure washer, which is widely appreciated by home and commercial users. It has 3,100 per square inch of maximum pressure and 2.5 gallons per minute of flow rate. The cleaning power is very impressive, which is up to 7,750 CUs. The engine is a four stroke over head valve with a hose attachment up to 30 feet. There are 5 spray nozzles in various degrees: 0, 150, 25, 40, and teh soap applicator. There is a soap tank at the bottom and the onboard nozzle support located at the top. There is also a separator tip used for cleaning the soap. This pressure washer is compact and portable, thus perfect for patios that are a bit of a walking distance from your main entrance.
3. AR Blue Clean AR383 Electric Pressure Washer
Another AR Blue clean pressure washer that is recommended for outdoor cleaning is the AR383 model It is easy to use because it's very lightweight and handy. The pressure can be controlled, which is ideal for cleaning the patio and outdoor furnishes. It has 2 types of pressure wands. There is also a pressure hose and a 14-ounce bottle of detergent included. Its best feature is the water conservation feature that claims 80% lesser water consumption and 40% more power against a regular hose. The pressure washer also generates less noise.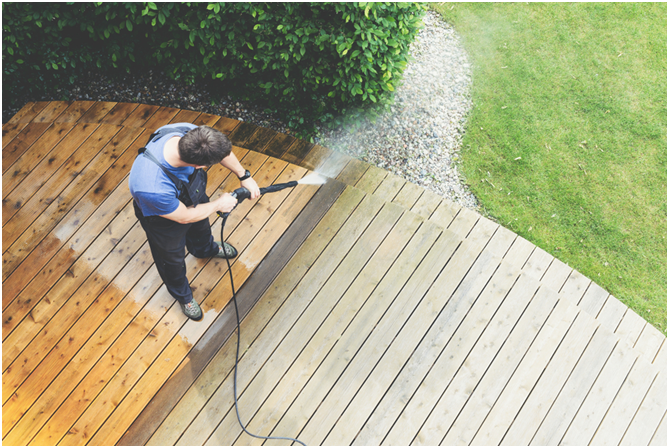 Buy your own pressure washer now and reap the benefits from it— a clean patio for a good family bonding experience.
 Conclusion
I hope this article will help you decide the best pressure washer for your patio. Having your own pressure washer is considered as a good investment at home, especially if you're one to use this power tool at least twice a month. You can also enjoy lots of benefits from it if you are able to maintain it well for a long time.
comments