Getting back to home with a hope of delicious and mouthwatering meal is we all dream about after the completion of our hectic and hard working day. Stuffing up you with delicious food is just not enough and satisfying. Dining area invites you for some relaxation, comfort, well organized stuff and disciplined table manners. But what if above all this you get a well-organized, awesomely dressed up and sweet dining table with amazing decoration done on it. Such preparation and decoration of dining table make your meal more interesting and exciting isn't it? So let's taste the perfect flavor of excitement with well dressed up dining table and delicious food.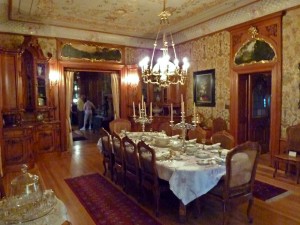 Customize your dining table setting with your personal touch and personal efforts. Time to make your dining table well dressed up for every occasion, surprise, parties, every day meals etc. Convey your style statement through your dining table decor presentation. More over remember a pretty table setting and decoration doesn't necessarily mean you need to put in expensive china or the finest table linens. A stylish table setting can be as simple as using a bold tablecloth and napkin rings as accents to grouping colorful vases in the middle as centerpieces. Give your simple touch to achieve the elegant way of decoration. Make is simple not messy, keep it elegant not expensive.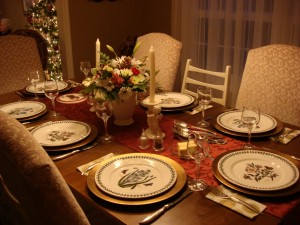 Here are few small, simple, quick and handy tips to dress up your dining table to make it perfect for any kind of dinner or meal. It may be your family dinner, friend's meal, romantic dinner etc.
Flower Decorations: Dress your dining table with ever green flower decorations. Flowers are the only thing which is liked by every age group, fits in every occasion and suitable for any time (day or night whatever it may be). Group up different kind of flowers in a vase for that versatile and gracious looks. To get one of that romantic dinner settings flourish the table with roses (red, white, yellow any color of your choice) but should be single color roses all around the vase.
Napkins Day Out: Enhance the beauty of your dining table, table cloth, table settings and crockery with smooth, silky and elegant napkin collection. Figure out one particular patterned or colored napkin for the respective dinner time according to the occasion and get together. For example pink napkins go well with a dinner date, white napkin plays perfect role to entertain your formal guests, any bright color napkins are good entertainer and suits perfectly for your family dinner.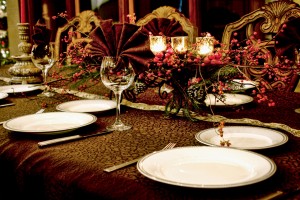 Crockery Impression: Well-arranged crockery gives the first impression to your dining table décor settings. Let the crystal do the talking with dining table arrangements. It can be a white cookery for the classy and royal dinner types; you may play with some silver pitcher and silverware with wooden handles to take up a versatile look. Basically you need to make it large and more impressive with your crockery display and arrangements.
Candle lights: Most impressive, heart touching and loved by millions the simple and sophisticated candle light decoration or dressing for your dining table. Choose a perfect candle stand to glow up your candle settings. You might go for crystal stand, wrought iron stand, wooden stand etc. to glow the beauty of your dining table.
Hanging lights: These lights work equally good to impress your guests and family. Glam up your dining table settings with some top decoration and lighting. They have those killer expressions to make your dining table decors pretty successful and elegant all time.
Table cloth designing: Last but not the least is the dining table cover or table cloth. They have lots in their hands to enhance the beauty of dining table decoration. If not used and selected perfectly according to the occasion it may ruin up your whole party, dinner time or dining table settings. Floral prints are perfect for informal dining table settings. Strips are bold and beautiful and match up well with every occasion. Single color table cloth without any pattern or design on it is perfect for your formal décor settings.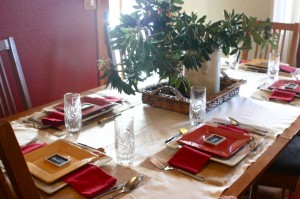 Dining table seems to be small furniture or object to handle but, dressing it up well is an interesting as well as huge subject to go with. So, try to remodel your dining table setting and decors with these tips. Make your meals more wonderful, delicious and memorable with amazing and eye catching dining table decorations.
Image Credits:www.pouted.com

comments