There's something about dark stained wood that absolutely screams luxury. Maybe it's a subconscious association with bygone eras of construction, like the fascinating turn of the century lumber baron homes now residing as museums in my hometown.
A hundred years ago, cherry and mahogany and the like were clear markers of wealth and taste; the leaders of industry and society constructed homes absolutely laden with the materials.Carved, painted, inlaid with gold, or minimalistic flat panels are some of the varieties of dark wood style cabinetry you'll see in this collection.
Look out for bright metallic hardware, contrasting marble countertops, and intricate tile backsplashes punctuating the rich expanses of wood in these kitchen. Pay attention to the spectrum of colors, from stained natural tones through cherry and nearly black wood cupboards, paneling, islands, and more.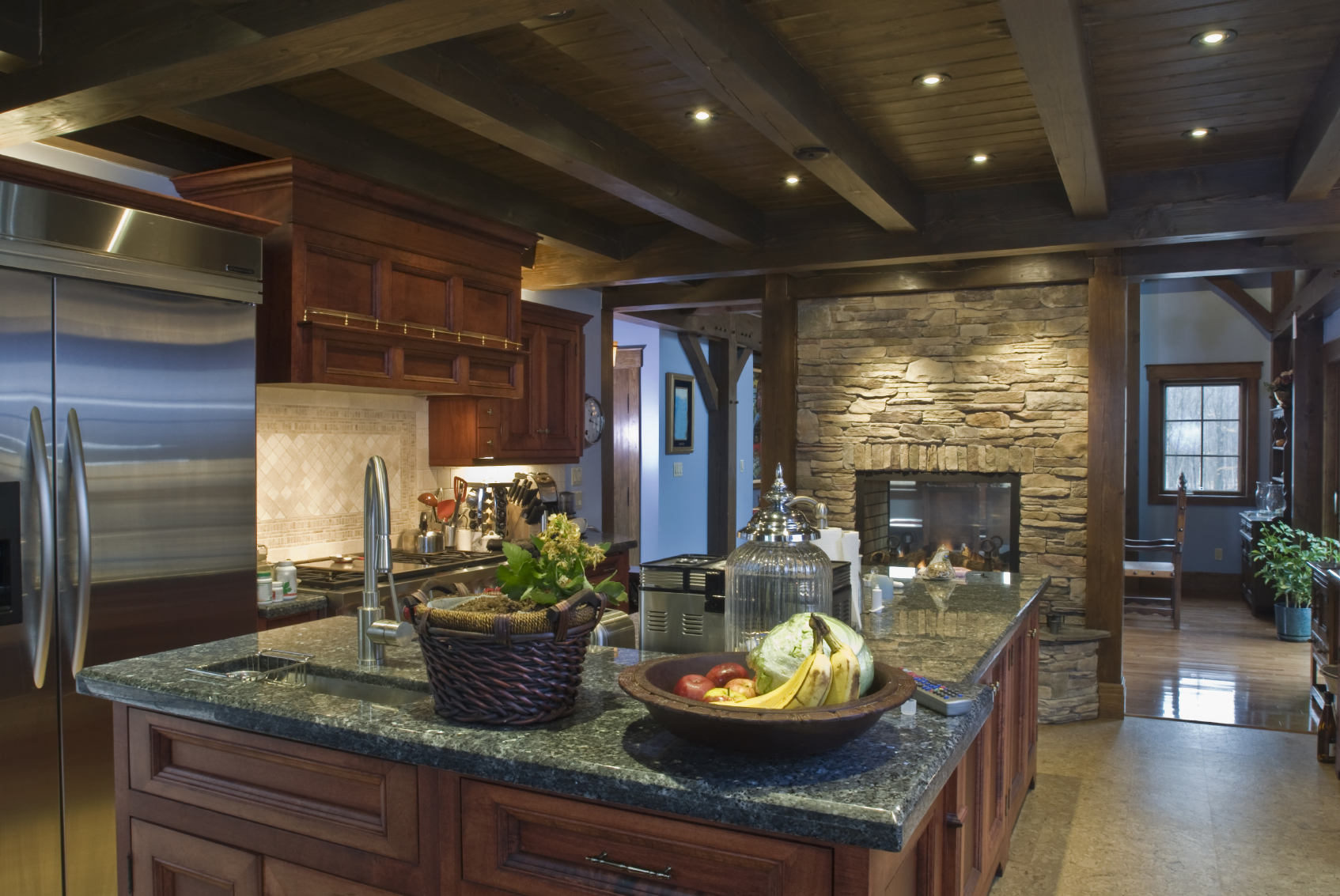 Some match their surroundings, with exposed beams or fireplace surrounds, while others become standout features in otherwise light toned spaces.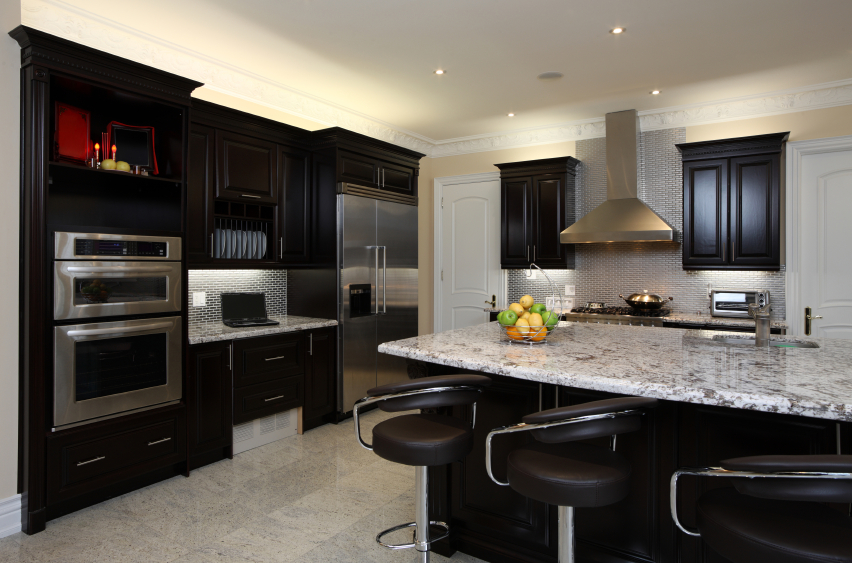 Kitchen is great example of high contrast between dark toned wood cabinetry and light marble surfaces, with large island featuring dining space, plus micro-brick tile backsplash.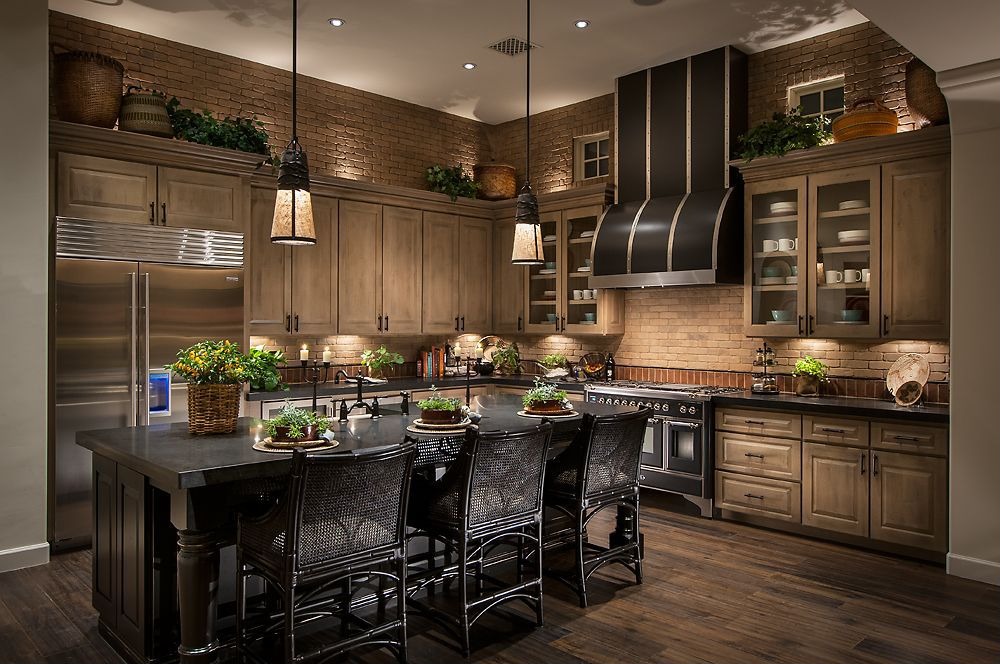 Brown tile walls match wood cabinetry and darker hardwood flooring in this kitchen centered around black island with full dining space.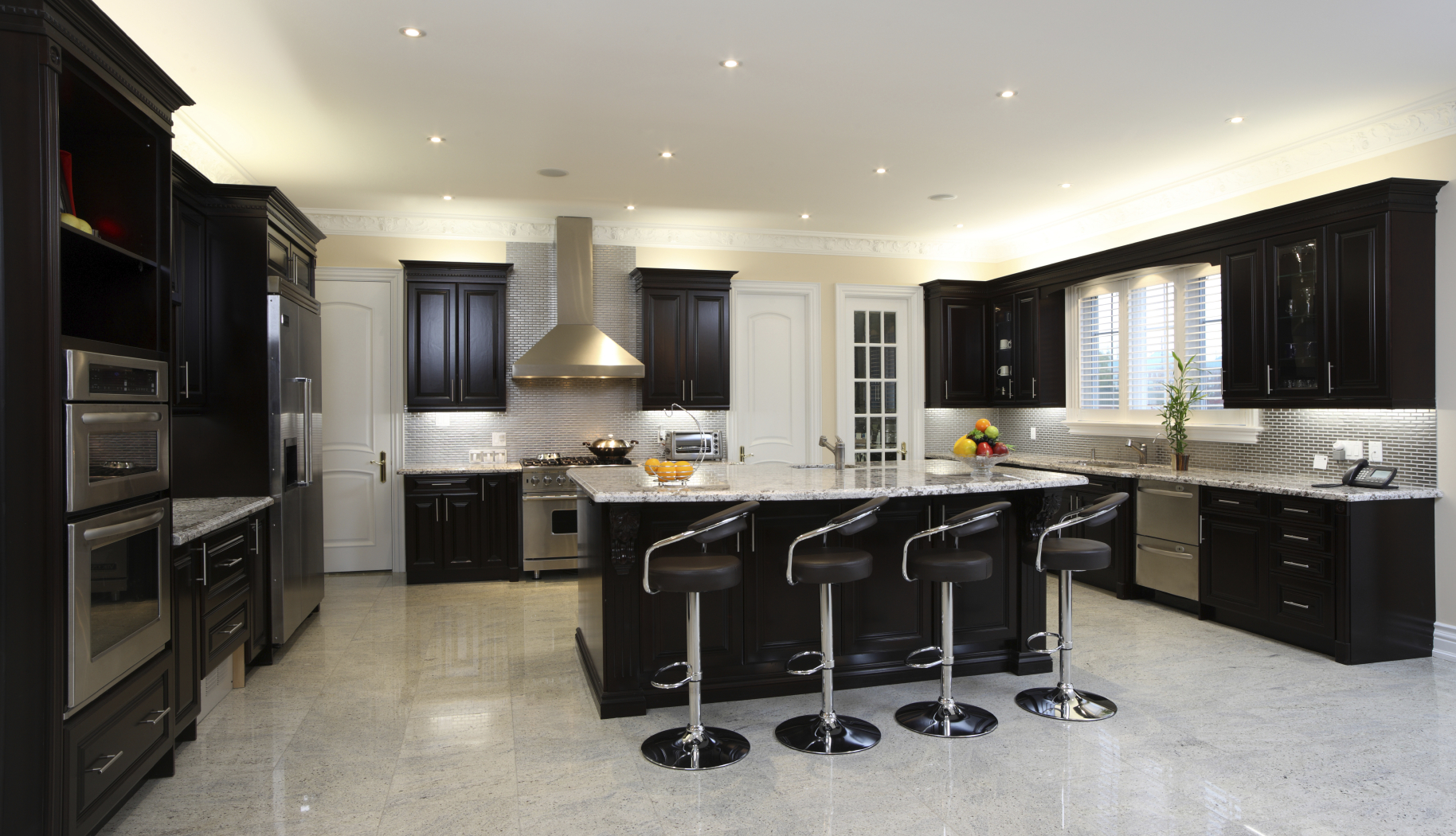 Spacious modern kitchen with dark cabinetry, breakfast bar, 4 modern diner style stools and stainless steel appliances.  This is a great kitchen layout because the work aisles are wide which accommodate multiple people in the kitchen at the same time.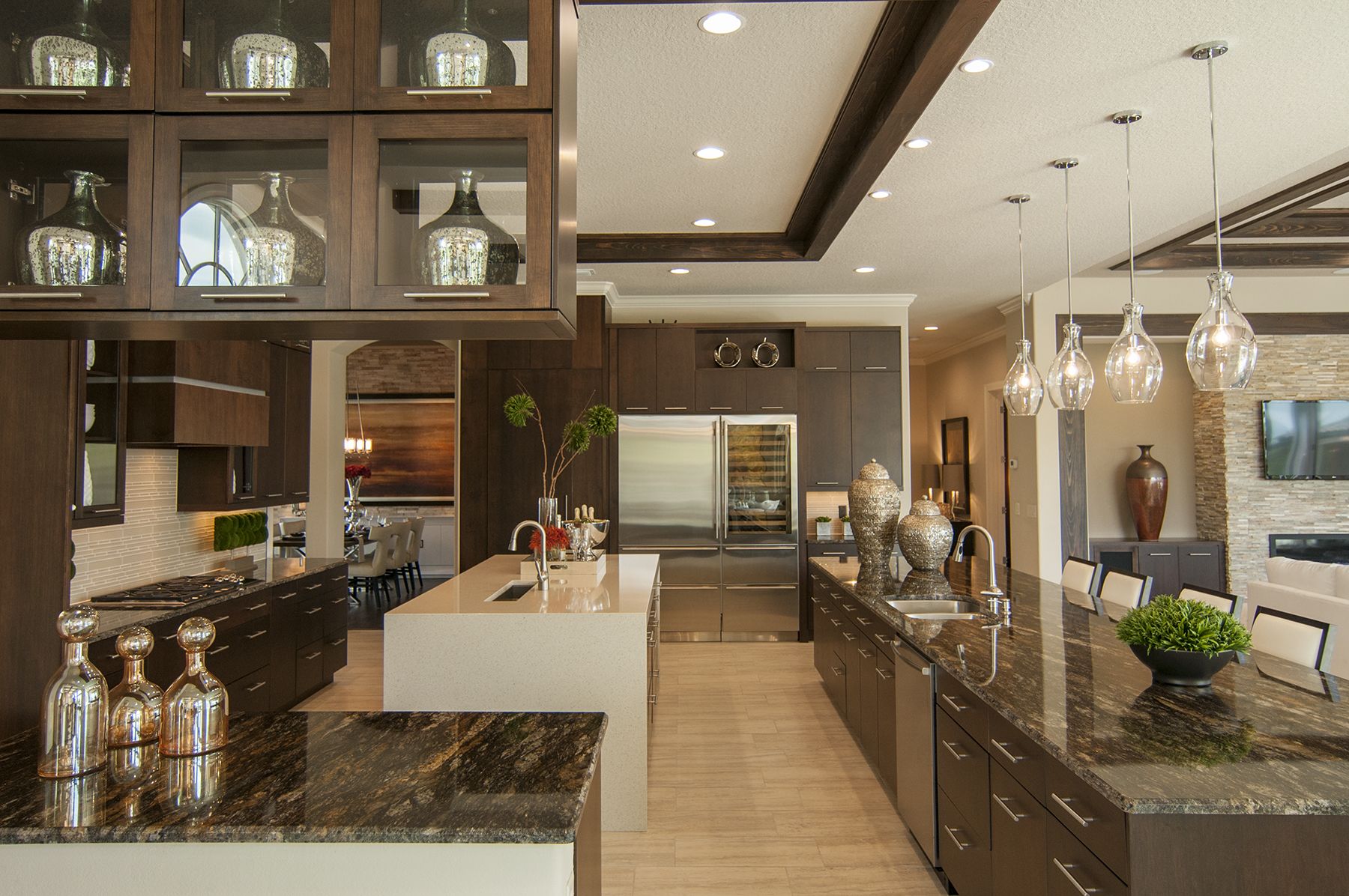 Ultra-modern look kitchen flush with dark tones: marble countertops, minimalist wood cabinetry paired with light hardwood flooring and white tone island in open design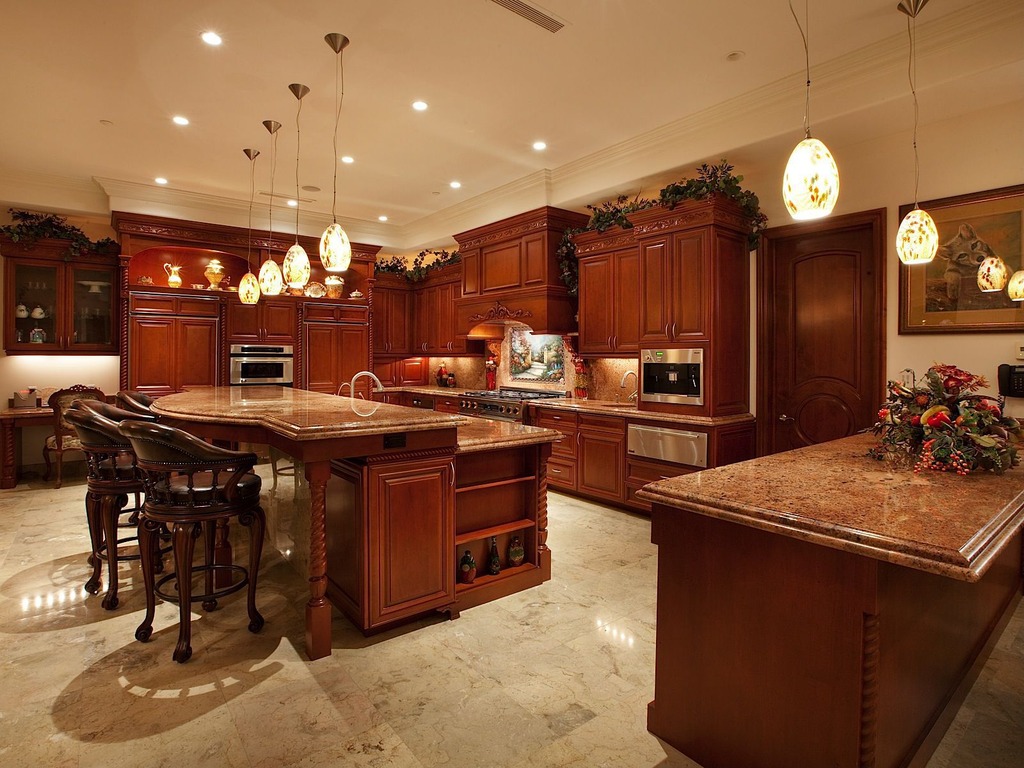 Luxurious, open kitchen with stained wood cabinetry and large, two-tier island at center features ornate painted backsplash over range.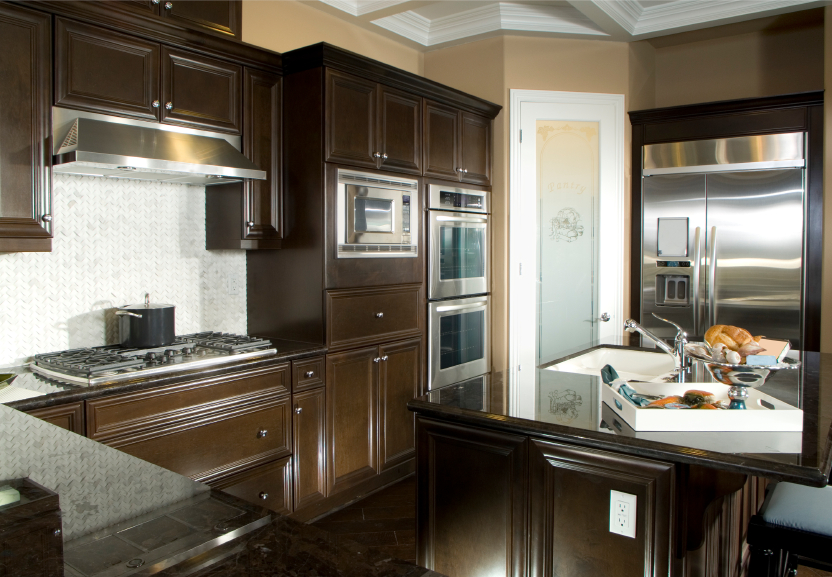 Dark chocolate wood cabinetry surrounds white tile backsplash over dark tile flooring in this cozy kitchen with marble countertops.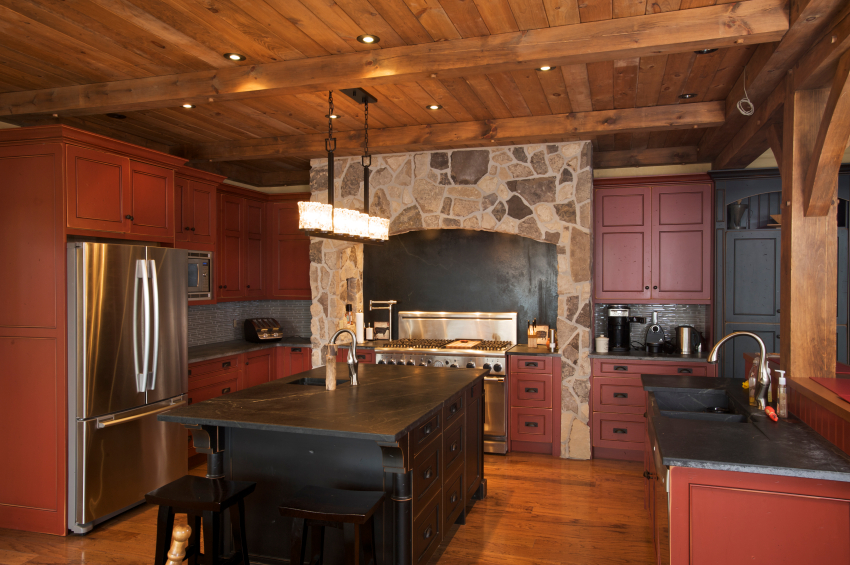 Here's another lush, rustic styled kitchen, with dark red stained cabinetry under black marble countertops. Exposed beams and natural hardwood flooring complete the look.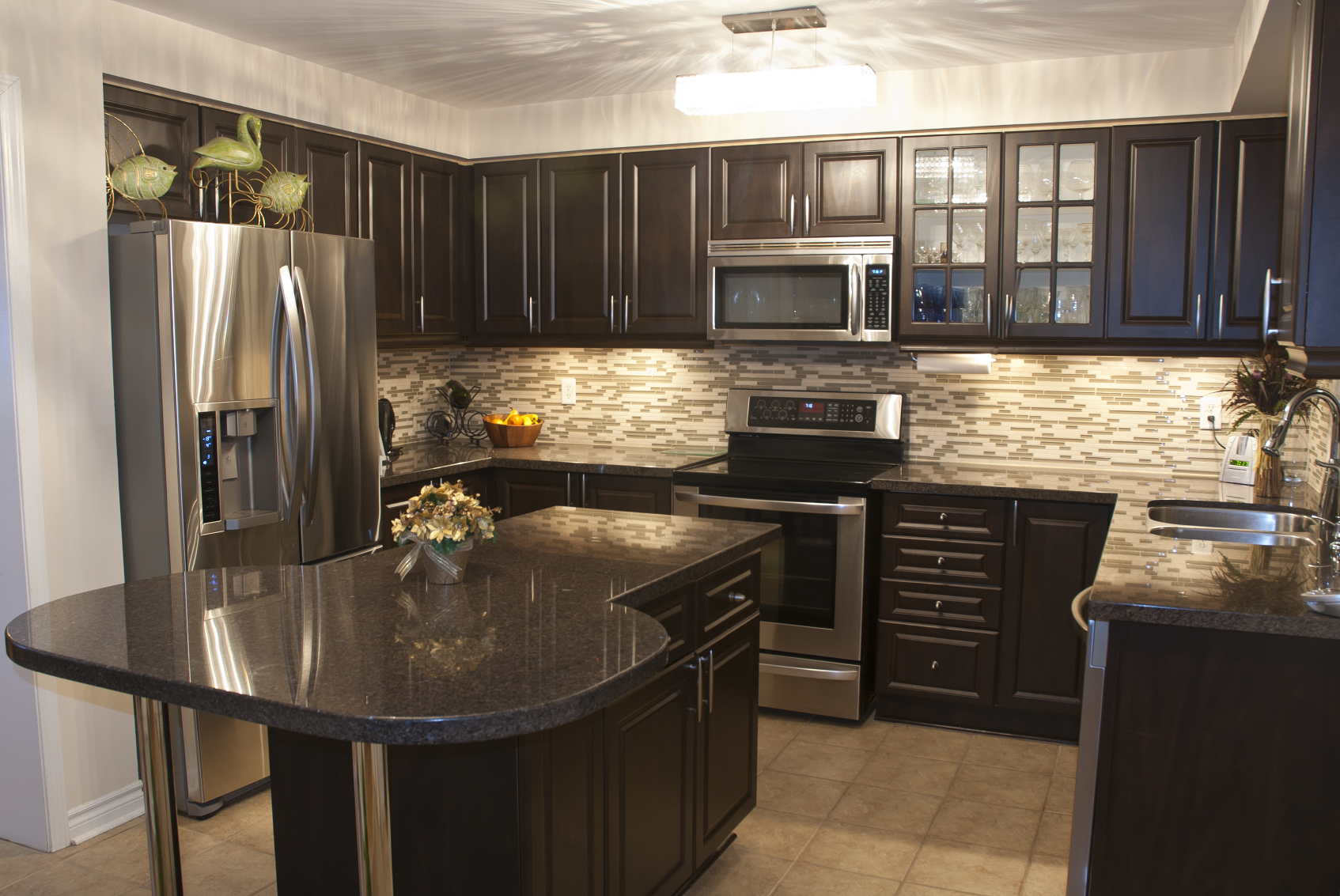 Cozy kitchen is stuffed with dark wood cabinetry, with brushed metal hardware. Black marble countertops and patterned tile backsplash, plus aluminum appliances, add contrast.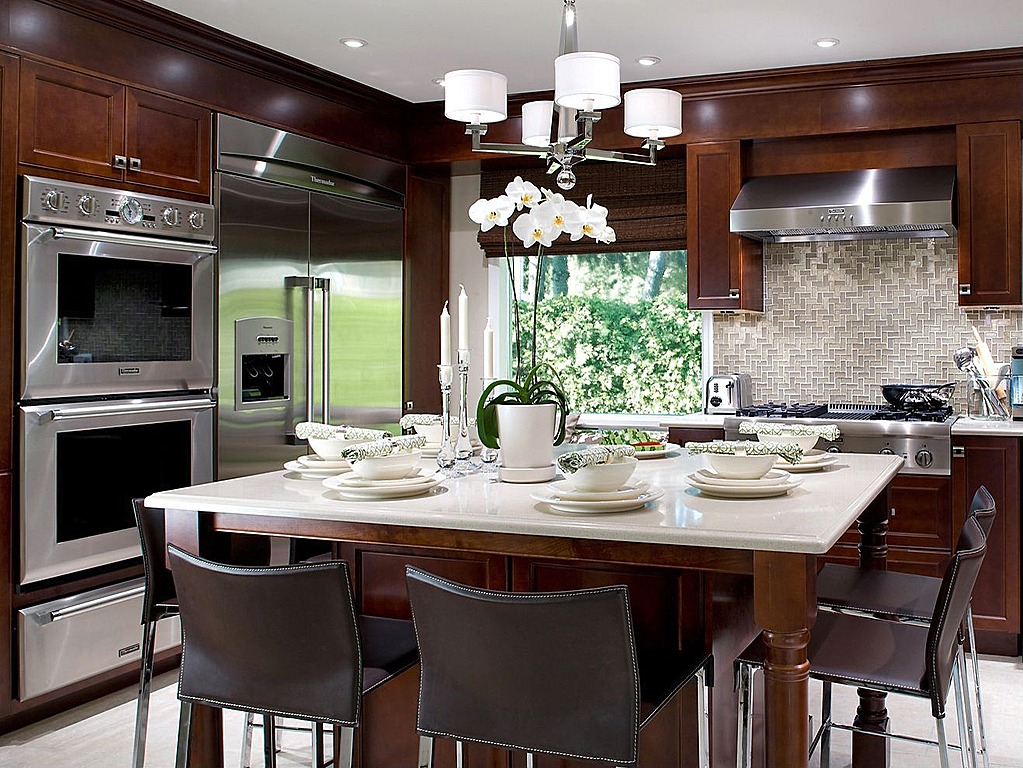 Bright marble countertops and matching tile flooring contrast with dark natural wood tones throughout this kitchen, enveloping brushed aluminum appliances and patterned tile backsplash.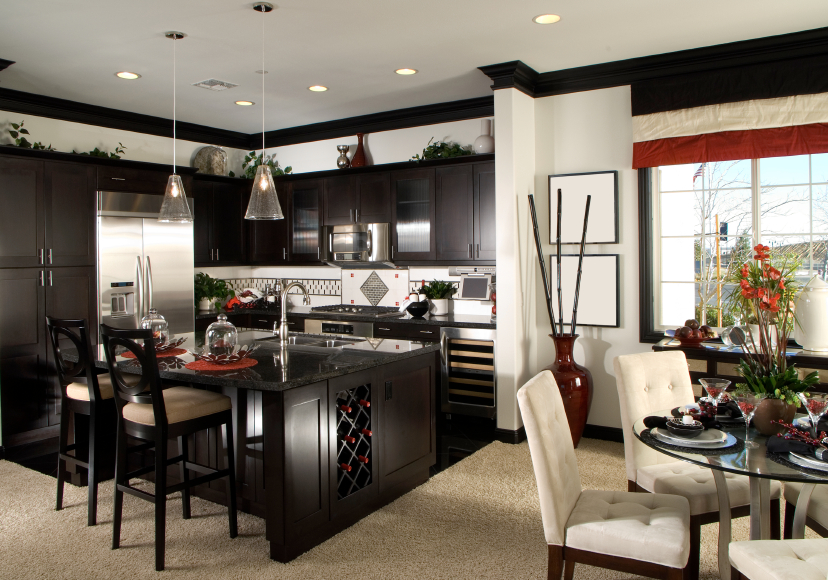 High contrast white walls and dark stained wood design in this open kitchen visually separate the space from dining area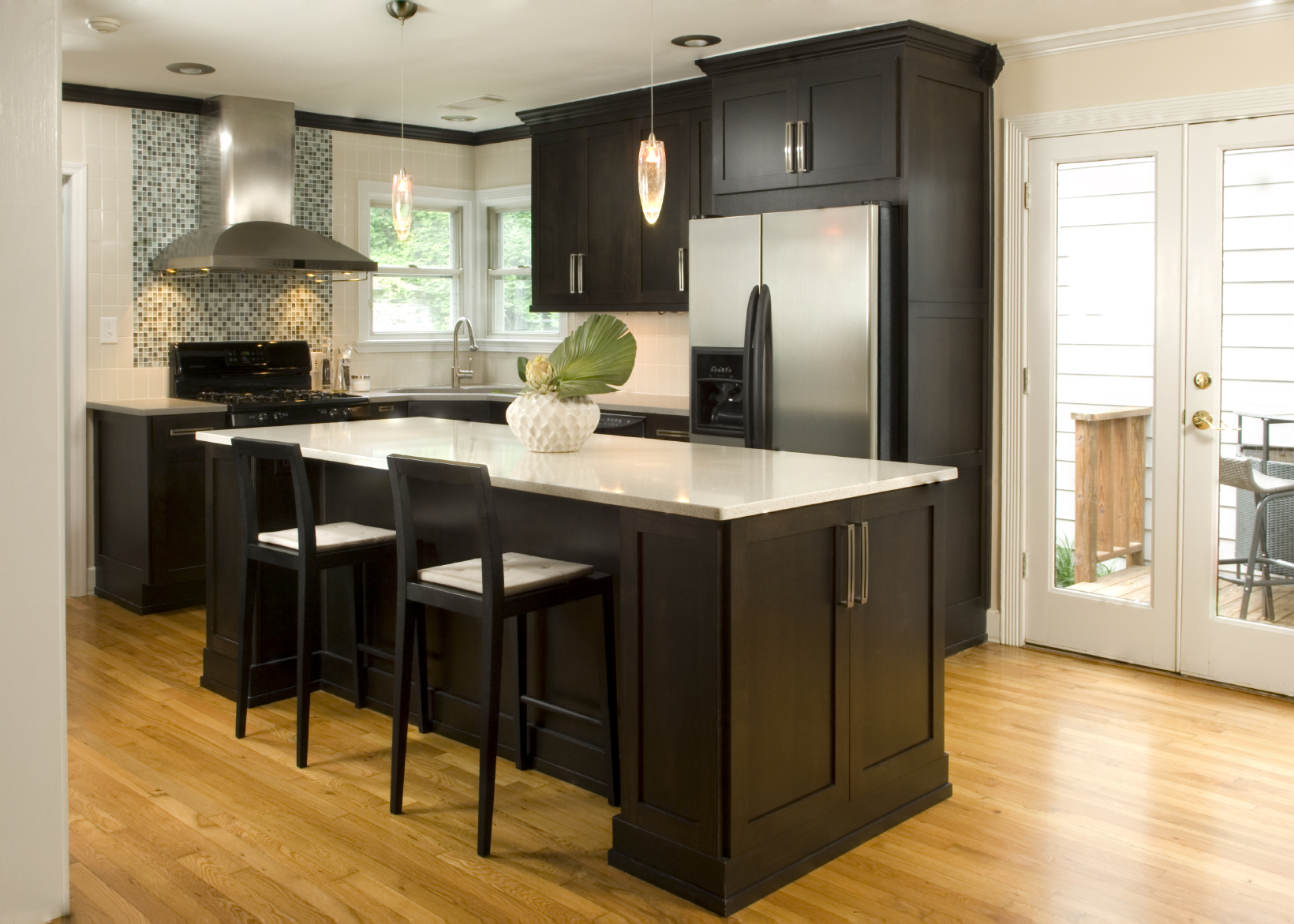 High contrast white wall kitchen with dark wood paneling and cupboards, paired with white countertops and light hardwood floor.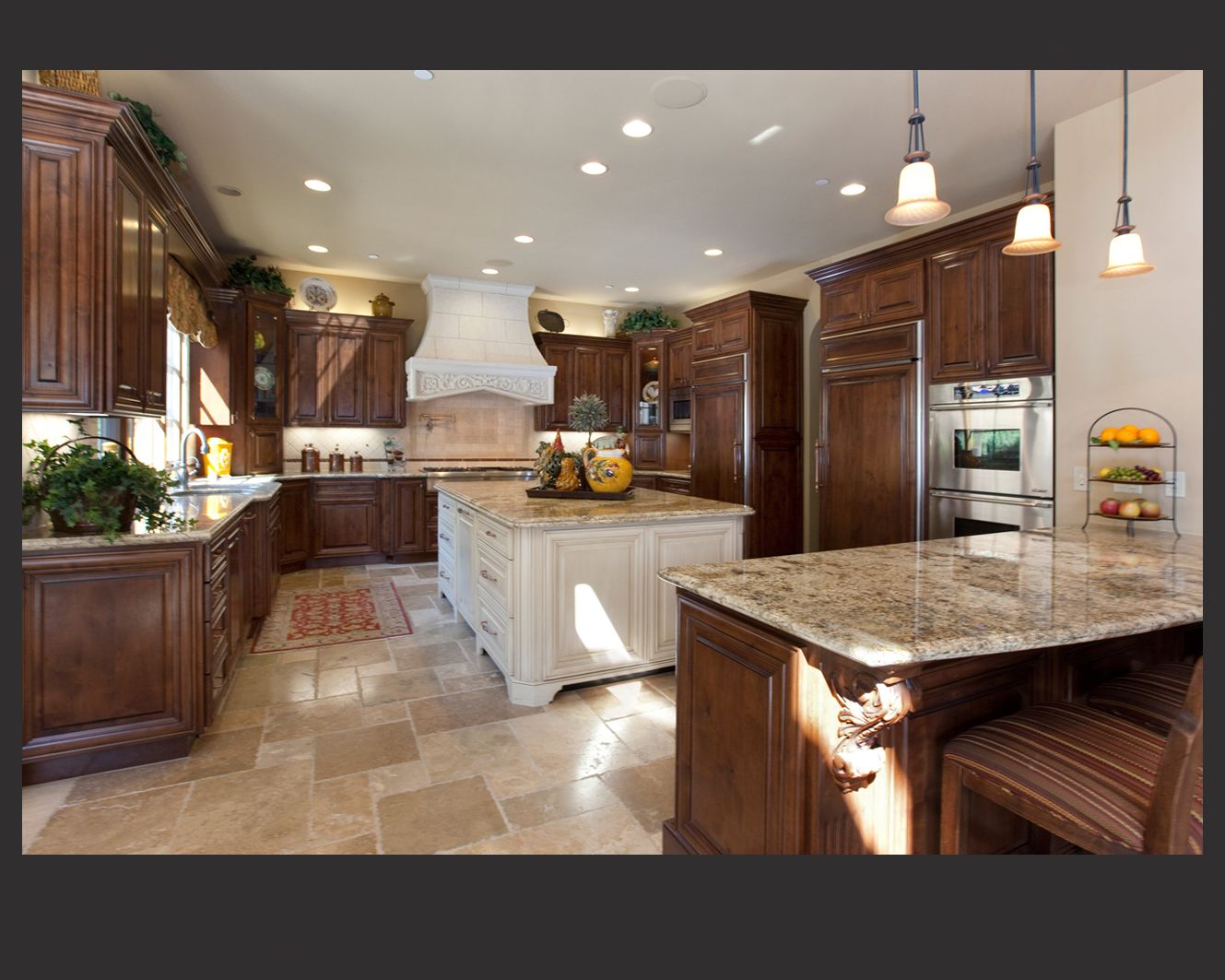 Richly detailed U-shaped kitchen centers dark wood cabinetry around large, white painted wood island with beige marble counters all around.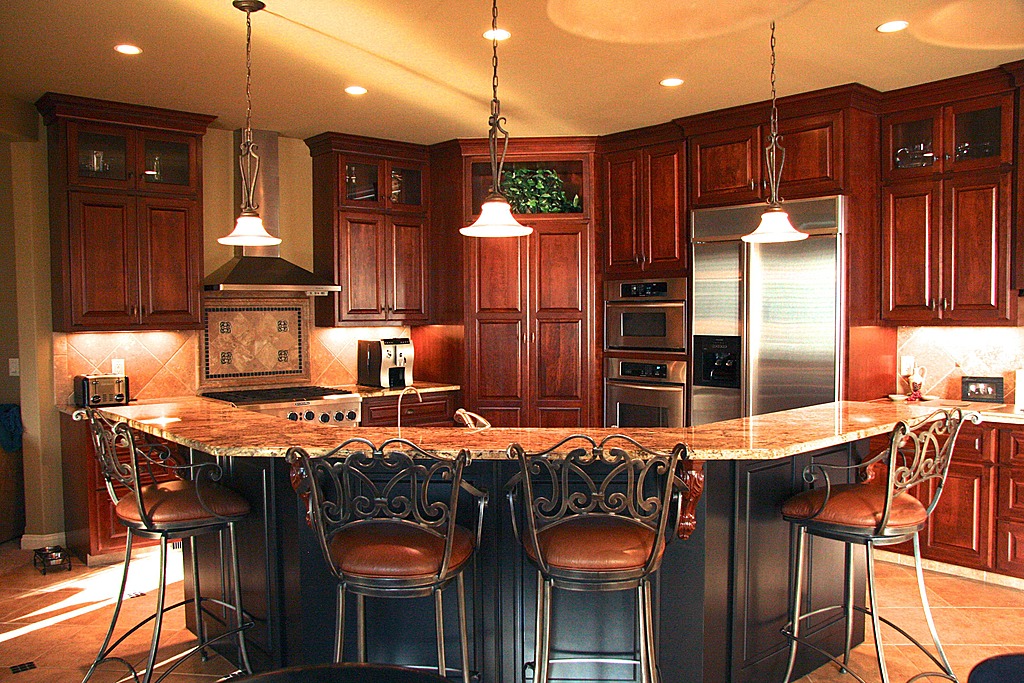 Corner oriented kitchen features cherry wood cabinetry floor to ceiling, with large C-shaped island in black wood with two-tiered marble countertop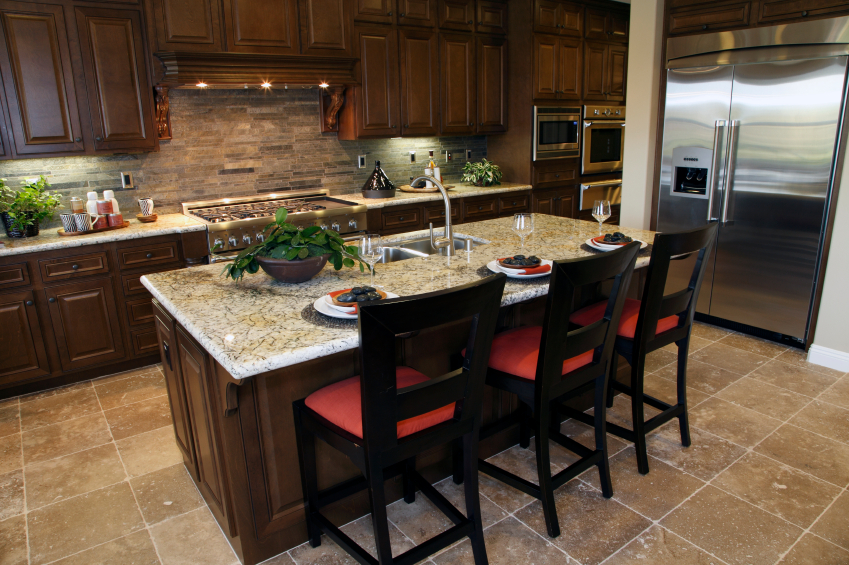 Large marble topped island with dining space centers this kitchen over beige tile flooring, with dark wood cabinetry sandwiching layered tile backsplash.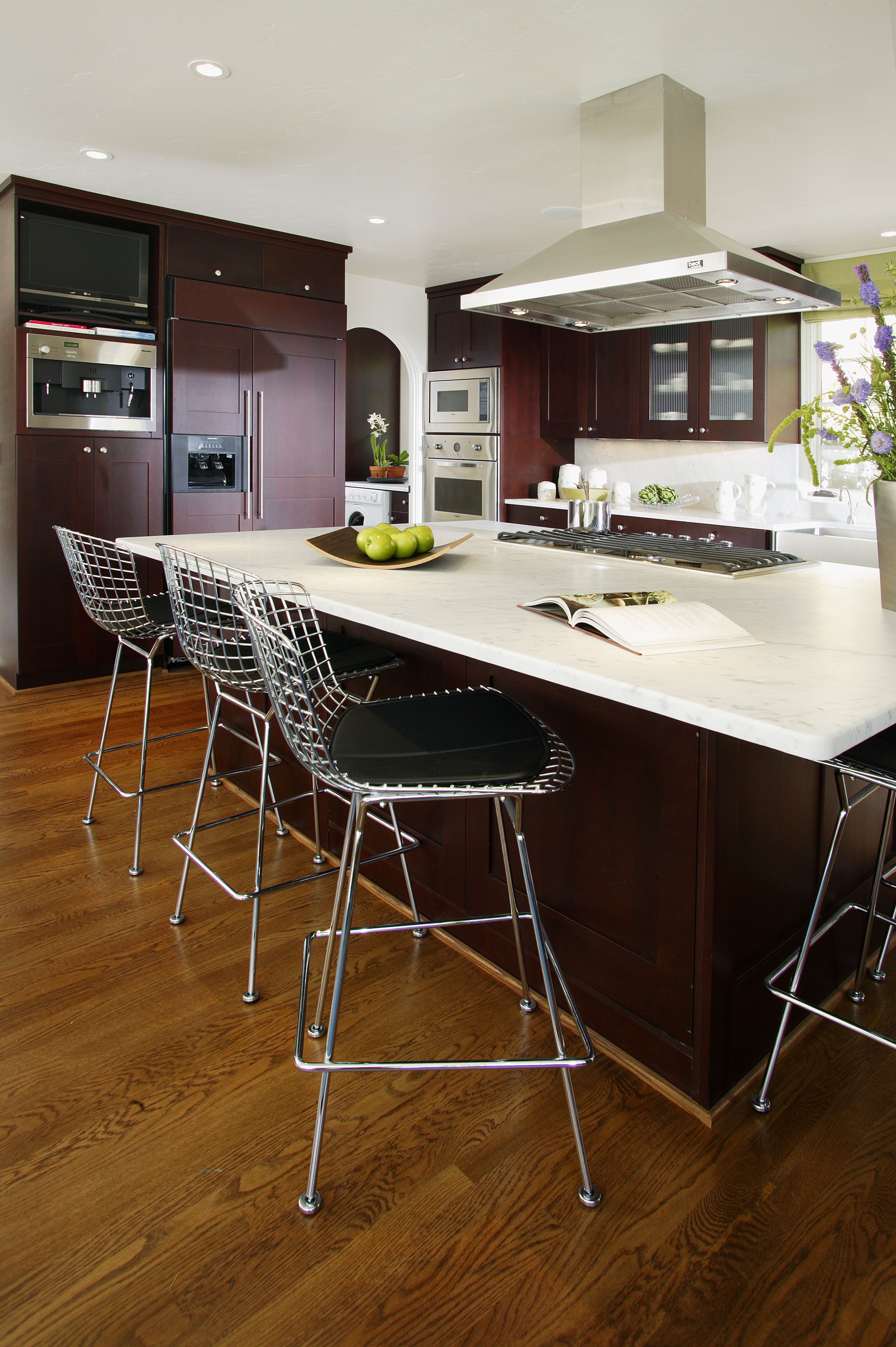 comments