Looking for ideas to decorate your front porch? Front porches can not only increase your home's aesthetic appeal, but they are also great for entertaining guests and spending relaxing time outdoors.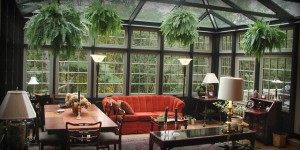 Don't worry, even if you have a small front porch and not much space to decorate. With some useful tips, you can still make your porch look welcoming and functional. 
And if you are planning to sell your home, remember, the market value of your home will automatically increase if you have a stunning porch. Consider hiring a professional to design your porch and increase your home value.
So without further ado, let's take a look at some of the best small front porch ideas for your home.
Place round wooden table and rustic stools
Small space? You can still make your porch stand out by making it inviting and functional. Make it a place where you can relax and drink your coffee by placing a small round wooden table and rustic stools. You can use a round outdoor rug for your floor. 
To arrange extra seating, a built-in bench would be perfect. Instead of going for other colors, paint the bench white. It will complement the floors and will make space appear bigger than it actually is.
Use refurbished vintage high-backed white chair and seat
Built a cozy and inviting front outdoor porch by making use of a refurbished vintage white chair with a high back and seat. Ensure to use matching cushions. It will become your favorite spot to indulge in some peaceful time in a summer evening.
Create a shabby chic porch
A shabby chic porch can easily replace your living room if created right. Your porch can feature a comfy entry bench with cushions and plenty of throw pillows. Make use of original planters to plant some flowers or succulents. Other than that, distressed furniture, soft pastels, and feminine accessories can all add a shabby chic charm to your porch.
Create a holiday-themed porch
Go for a holiday-themed porch this winter. A wooden bucket with logs will add coziness to your space. A nice wreath can make your space appealing while saving space. You might also like to decorate your porch with garlands and lanterns. Don't forget to add a rustic bench for extra comfort. 
Paint your porch white
Of all the colors, white is the best color to make your front porch appear bigger. Make sure to paint it white. Or you can opt for a black and white color theme. If you want some privacy, hanging a curtain will provide the needed space to yourself. Don't have a garden? Consider growing your flowers on the stairs to your front porch.
Create a dramatic effect
To create a dramatic effect, hang porch swings from your tall ceilings. Make it snug by adding round pouffes while providing extra seating and a contrasting shape.
Use mix and match furnishings
To bring a bohemian feel to your small porch, go for a mix, and match furnishings. Remember to cover your pagoda in lush greenery. Also, consider investing in a charming wind chime to set the mood for a relaxing front porch. You can opt for a playful theme.
Declutter your space
When you have a small porch, too much furniture can distract from the livability of your space. Declutter your area by getting rid of outdated or impractical furniture. Keep only those that are functional an additional charm to your space.
Connectivity is the key
Your small porch could be connected to lots of other outside spaces. For instance, your driveway or another outdoor space or your backyard could be connected to your front porch. When you join your front porch to other spots, it brings cohesion and creates an illusion of your small front porch being bigger. Consider planting similar plants, using similar color schemes or architectural details all through.
Add a personalized doormat
A colorful and cheerful personalized doormat can convey your personality while being functional at the same time. A doormat can also make your space cozy and appealing.
Use the right lighting
Lighting can also bring personality to any space. You can opt for solar lights or other decorative lights to add charm to your porch. A decorative light that suspends from the ceiling is a great idea too. Just make sure not to overdo it.
Paint your floor to complement the color of your home
Not everyone wants to paint their home white. If you have cement plaster flooring or wooden flooring, you can paint your floor to complement the color of your home. It will immediately transform the look of your porch. If you want to get more creative, paint a striped or checkerboard pattern. Go ahead and paint the ceiling too. 
Install ceiling fan for added comfort
Your summer nights out on your porch will be made more comfortable with a ceiling fan. You can sit on your favorite rocking chair in a summer evening with your favorite book, sipping a glass of lemonade, enjoying the gentle breeze from the ceiling fan above.
Add a sofa swing
No space for lots of furniture or décor? A sofa swing is enough to create a romantic and cozy ambiance. You can use paintings or frames to decorate the walls without taking up extra space.
Over to you!
Which small front porch idea do you wish to steal from here? Decorating your porch that does not have enough space is quite a task, but you can actually turn it into a cozy and functional space if you use the right trick.
You can also make it appear bigger than it actually is. Consider experimenting with different ideas and see which one works for your porch. Remember, color plays a decisive role while decorating your front porch. 
And if you wish to put up your home for sale, you can consider hiring an interior designer to design your porch. It will help increase the aesthetic appeal of your home and increase the value.
About Author:
Richa Parmar is an architect and passionate in the field of designing & creativity. Her inclination towards nature has made her take up a lot of challenging assignments in the subject of "landscape" and also has made her initiate to write blogs. Presently she works as a Senior Manager cum Architect Blogger at GharPedia portal. You can reach her at LinkedIn.
comments