Your RV is your home away from home. Shouldn't it be decorated like one? Read on for RV decorating ideas that'll make you feel at home on the road.
Last year more than 500,000 new RVs were delivered to excited new owners. You have two tasks as a new RV owner.
First, where you are going to go? Second, how are you going to settle in and make your new RV your home away from home?
We have 5 RV decorating ideas that are perfect for helping you get started.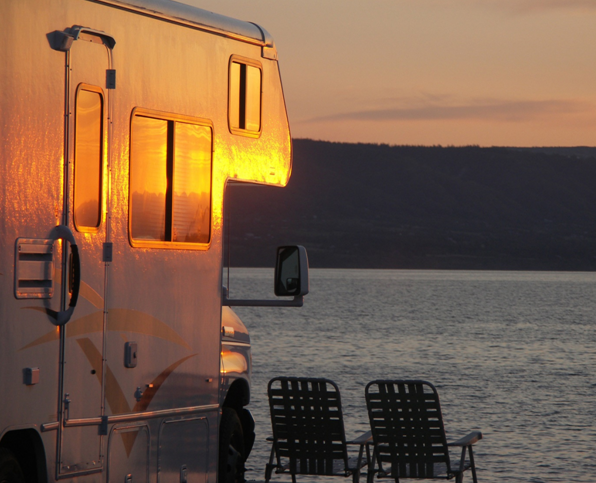 1. Bright Patterns and Colors
The space inside your RV can start to feel small and cramped. One way to combat this is to use bright colors and patterns.
Lighter colors tend to reflect the light. Lighter weight fabrics let light through. Combining these two means you're helping the inside of your RV be as bright as possible.
2. No Sew Curtains
Curtains are a great way to add some personality and privacy to your RV. But who has space to carry a sewing machine around with them?
Making your own curtains lets you match the curtain material to the rest of your decor. This gives you a world of fabric to choose from.
Buy your fabric and cut it to the right size leaving some extra for your hem. Then use some heat activated seam tape to create a hem.
Take the hooks off your old curtains and hot glue them onto your new curtain fabric. Viola! You have custom no-sew curtains.
3. Wallpaper
Wallpapering a room in a house is a huge project. There is a ton of wall space that you have to cover with perfectly lined up paper.
An RV though is the perfect spot for you to experiment with different patterned and colored wallpaper. There isn't a ton of "wall space" making the project go quicker. It will also cost a lot less since you need less wallpaper to complete the project.
4. Light Upgrades
One of the easiest ways to add some style and personality to your RV is the change out the lighting. You can get a professional to help you, but with a little knowledge, this is a doable DIY project.
Look for lighting that is lower profile so that it doesn't take up too much room. You can also look for lighting like a sconce that would be unexpected in an RV.
5.Decorate Outside
So  you booked a spot at the Stella Mare RV Resort at www.galveston.com/stella-mare-rv-resort/. Once you're hooked up and settled you'll want to expand your living area to outside of your RV.
Get some lounge chairs and lanterns that each fold down flat. This makes for easy storage and set up. Get a colorful tablecloth and outdoor rug to add a touch of homey comfort to your outside "patio" area.
RV Decorating Ideas
Just because you are traveling by RV doesn't mean that you can't have a touch of creativity or personality. This is your home away from home, so decorate your RV in a way that will make you feel most comfortable.
Try adding bright colors and patterns to the rug, pillows, curtains, or even wallpaper. You can also freshen and brighten up the space by changing out the lighting for a unique look.
Don't limit your RV decorating ideas to the interior of your RV. Carry some items with you to decorate the space around your RV.
Check out our blog for lighting ideas.
comments