Kitchen being the busiest place and important place of every home or residence unfortunately at times get ignored by the designers, home makers, clients etc. to get poured into an amazingly bright and lively color recipe. Most of the people opt for light or dull colors in the kitchen as simply justto cover the walls as if painting the wall is the only requirement by the kitchen walls. Why can't we just come out of this sober and light combination which at times becomes so fatal and monotonous? It's time to try for a brighter and happier walls, cabinet laminates, curtains etc. for the kitchen. Make your kitchen a better and brighter place to work in. Spaces when emit some positive and bright vibes, it directly and indirectly affects the work and quality of the outcome of the work done.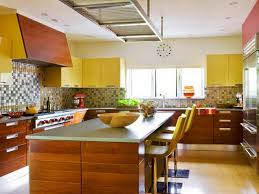 Just painting the wall with bright color is not the only option to bring back the missing brightness and charm of the kitchen. In fact, it's the start to brighten up a ladies world who devote her most of the time in the kitchen to make family happy and healthy. It's time to cook a real delicious recipe of brightness, life and design for the home maker and the kitchen owner. For a change try:
Lemon Green with burnt yellow. (An awesome combo for a green and sunny kitchen)
Tints and shades of Red with the purity of white. (Go hot and sweet with this chill out combination)
Orange with bright and pale effects and to play with you may add some light green to it. (Lighter color balancing the brightness of dominating orange).
Pink and purple. (For that sexy and sweet combination)
Olive green, cool blue, magenta etc. are the colors of life. (Apply them according to your choice and design)


Bake and make your kitchen with proper color combination to come out for that most common in general effects and designing. Try out laminates with different colors; combine the color wheel combination for that "wow" look. Texture up the cabinets with glossy or matt touch yet different color combos. Cabinets are not meant be to just of wooden texture or wooden laminate. They too starve for better looks and help in providing best of designing results for the kitchen. Cabinet's colors when played in a contrast mood with the color combination of the kitchen walls, they surprisingly come out with the flying touch of design and brighter side of kitchen world.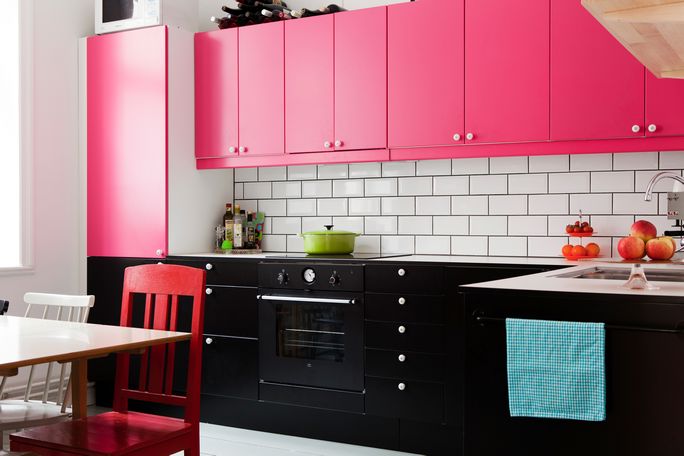 Let the crockery of your kitchen be out of crystals, white and blue at times. They are bored of it, they might be a classy royal combination but change is the need of hour as well as giving such sudden change can pump in the needed energy and life to your kitchen color and designs. Come on grow up with some funky, eye catching, unique colored crockery. Take a step ahead to be bold and unique. Let your crockery too speak the language of boldness, being different and most elegant. Then I will call it crockery perfect to blend well with the newly designed kitchen.
Closed cabinets without even a glimpse of inside stuff, don't you think it has turned bit old and outdated.  Try out few open cabinets with curtains (colorful curtains with different patterns and texture) or frosted glass cabinets to mix up well with the overall décor of the latest kitchen trends and design. Let the walls chill with wallpaper colors and patterns as well. Kitchens are not meant to be for just yellow, cream or in white color palate. There are no limits to design; it is actually we who have created those mental limits to ourselves and to design world as well. Each and every corner of the house should be given a trail at least for that difference and to come out of the common rat race.  So, fabricate your cooking place with the amazing, superb and different color combinations. Let the furniture, cabinetry, crockery, accessories, etc. everyone get involved in the mission of preparing "best color recipe for your kitchen".

comments