Every part of your home deserves to be organized with the utmost style, convenience, and functionality. In this way, the entire residence can live up to the lifestyle of its residents. Inside each room, various elements of interior design will combine and work together to ensure that your interiors are pleasant to live in.
There's no one-size-fits-all approach in designing each part of your house. Some areas might need something a little extra, while you'll have to exercise more control in other parts, especially when choosing the right lighting. Lighting sets the mood for every room and highlights other elements such as line, form, and space. Here are some tips on how to choose the right one:
Kitchen
All food preparation happens inside your kitchen, so you'll have to make sure that lights are placed at the right spots in your kitchen. For the sake of convenience, you can opt for choosing natural lighting for your kitchen which can give off a calm and comfortable atmosphere while preparing food. However, natural lighting will not be enough especially when sunlight is unavailable during other times of the day, so assemble an ambient lighting system for your kitchen.
An ambient lighting system can be your main source of light in addition to natural lighting. Play with lighting elements such as flush mounts, pendant lighting, recessed lighting, and even chandeliers, but make sure to not overdo it. For areas requiring more focus, task lighting should illuminate your main work surfaces and cabinetry. Ambient lighting often leaves shadows that task lighting can fill in. This task lighting can be in the form of puck or strip lights, as long as it allows you to do the usual kitchen work.
Living Room
You and your family will most likely spend considerable time in the living room, thus lighting will become an extremely significant element in affecting your mood and relationships with one another. A concept of light design called layering can be your guide in designing the lighting system of your living room, since this is where family members will gather and perform an array of activities over a long period of time. 
Execute layering by bouncing light off the ceiling to play with human sight and senses. If your living room contains entertainment pieces such as TV, gaming consoles, and bookcases that don't extend up to the ceiling, bounced lighting might look inappropriate. Thus, you can add a linear fluorescent behind a millwork piece to exude a warmer appearance. You can also place adjustable table lamps in specific areas, like in spaces meant for a game table or reading chair.
Dining Room
Inside your dining room, you can create intimacy while enjoying good food with the help of the right lighting choices. Since dining is more intimate at night when most of your family members are present at the table, opting for low-level lighting can create a more dramatic ambience when you look across people at the table.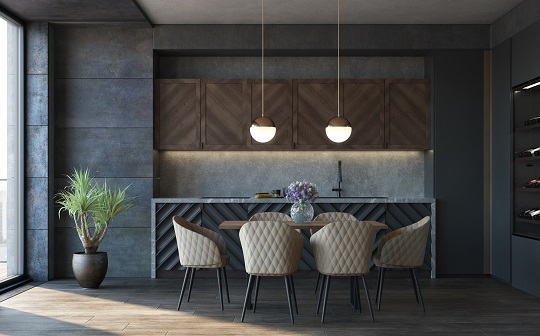 When choosing the best light fixtures, use the dining table as a guide instead of the entire room. The ambience is focused on the dining table, and the rest of the room and other elements will tend to recede. Because of this, consider the shape, style, and size of your dining table. Use round light fixtures like chandeliers if your dining table is round, or linear fixtures such as recessed lights if your table is more extended and rectangular. 
Bedroom
While people spend most of their time sleeping and taking rest inside a bedroom, that doesn't mean that lighting should be the least of your priorities. Generally, your bedroom should create an atmosphere that will induce relaxation at night and encourage you to rise and shine every morning. Applying the light layering principle, here's how you can transform your bedroom with lights:
Ambient: Build the lighting foundation with ambient or general lighting by letting in natural light. You can incorporate large windows in your walls which can let in more sunlight, or skylights in the ceilings. Allowing natural light into your bedroom will create a refreshing atmosphere to wake up to everyday. As far as additional fixtures are concerned, provide a decent amount of lighting for general bedroom activities.
Task: Since these lights are more focused, choose light fixtures with the right design that offers enough lighting to sustain concentration. These can be low-hanging pendants, bedside table lamps, wall-mounted task lights, or sconces.
Accent: If you have bedroom pieces to highlight, such as a painting or picture frame hung on the wall, accent lighting is suitable for giving a pleasant glow to these pieces. Utilize wall sconces, recessed lighting, tape lights, and other fixtures that will fit accordingly with the pieces that you want to emphasize.
Conclusion
With the right choice of lighting system in every corner of your house, you can make it luxurious and revolutionary even with the most affordable materials. As each room in your home needs a curated system of lighting, use the ideas mentioned above to maximize functionality and comfort in your home. Still, you're not limited to these ideas and can apply your creativity and imagination to repurpose other lighting materials aside from the light fixtures listed.
comments