Smooth flow of water in a beautiful bathroom with an amazing bathroom sink design is something which is desired by all. While planning for bathroom we do give importance to bathroom sink but at times we neglect it as well. But bathroom sink or basin is an important and inseparable part of bathroom design and should be give equal importance to its design and placement. They are used daily and everyone looks and notices them. They fulfil our unlimited purpose and requirements from the time we wake up to the time we go back to sleep.  Simply just installing a bathroom sink is not done. You should browse about the types of bathroom sink available in the market with different material and costing. Explore the world of bathroom sink and then install the one which fits best to your requirements.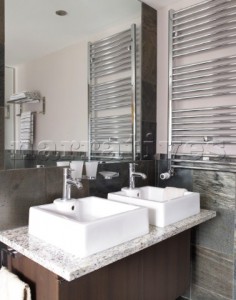 Before the installation and successful browsing of bathroom sink do consider few things accordingly.
Size and shape of your bathroom.
Proper measurement of the area where the sink is going to be installed.
Sink style and design meets all your requirements or not.
Sink size, material, height, width, and depth to fit perfectly at your given area.
Room or area where the sink is going to be placed – guestroom, master bedroom bath area, hotel room, canteen hand washing area, etc.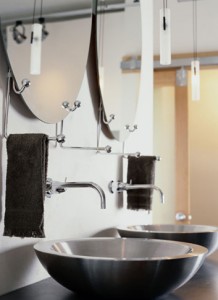 For the best suitable sink for your bathroom area it's important to know about the types of bathroom sink. Let's have a glance on the variety of bathroom sink available in the market in general.
Self-Rimming Sink – One of the most popular and commonly used bathroom sink. They are popular because they can be used in any type of vanity according to your choice and needs. This sink is very easy to clean and maintain. There are many styles and variations one can get with this type of sink such as special finishes; metallic paints or of glazed finish looks. They are common yet have their own impression and attraction.
Wall-Mounted Sinks: Advantage of such sinks is that they don't engage too much of space to get installed. Such sinks are basically recommended for the bathrooms which are less in use or have less traffic. They can be used in different ways as desired by you. You may place them at the center of the wall or at the corner of the wall. They hardly give you an option for storage.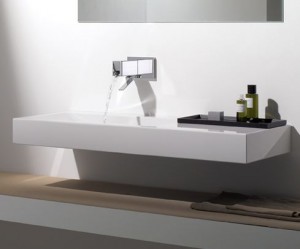 Pedestal Sink: These sinks offer more room in the bathroom, but also offer little space for storage. One can accommodate a small medicine cabinet or something of that nature to help you out from the storage issues.  They are easy to clean and maintain. They find a perfect placement at places like guest room bath area.
Under-Mount Sinks:  Such sinks are connected and attached to counters underneath using caulk and clips to it. These sinks are extremely easy to clean and keep clean. They easily blend with any counter top design and material. They might be not much of the popular choices but they are more efficient and easy to use.
Above Counter Sinks: The sink or "vessel" sits on the top of the vanity or countertop. They are also made from many different materials: stone, vitreous china, glass, and even bronze. They have done their super come back with amazing and unlimited designs and style to suit your purpose and requirement.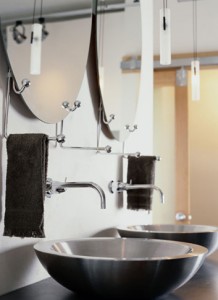 Most of the bathroom sinks are made of vitreous china, which is fairly easy to maintain and clean. Others may be made with wood, metal, stone and glass. You may choose from the different bath room sink styles to different materials to get the most desired and mesmerizing bathroom settings. Bathroom sink play an important role to enhance the beauty of the overall decors and bathroom designs. Before you opt for a bathroom sink do check its durability as well as its aesthetic impressions.
Do not just install the bathroom sink; in fact enhance the beauty of your bathroom design, your vanities, grooming area and over all decors with the successful accomplishment of your requirements and desires.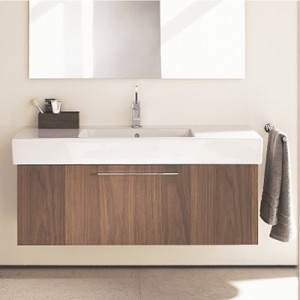 Image Credits: www.melkidesign.com

comments