Most people wait until there's an incident leading to damage for them to remodel their homes. This shouldn't be so. There are so many reasons to fix up your home as soon as you get the funds to. Especially if your home is a couple of years old, for instance, you are more likely to be dealing with a huge array of prospective home improvement projects to consider. But of all of them, nothing is more interesting than bathroom remodeling, especially considering its significance and importance in your home.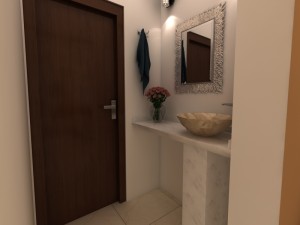 The main essence of bathroom remodeling is to add convenience, curb appeal, comfort, and the overall value of your home. But then again, chances are higher that you're one of those homeowners looking for bathroom remodeling ideas that will turn their shower places into exquisite spaces full of fun and comfort. If you come from Tulsa in Oklahoma, the US and its surrounding areas, for instance, it's best to work with a professional, experienced, insured, and bonded, Tulsa bathroom remodel contractor for the best results when remodeling your bath. All the same, here are some trendy 2018 bathroom remodeling idea pointers you'd want to take a peep at.
Color Trends
As we'd earlier mentioned, remodeling doesn't have to involve a total overhaul. Sometimes all you need are a few awesome fix-up ideas to give your bathroom a facelift. In 2018, color has played an important role in bathroom upgrades. Simple color shades have dominated the trends as most people are now avoiding "all white, all blue, all red" walls. Over time, these color schemes can experience noticeable wear and tear, unlike the simple color shades. For instance, olive green and soft blue-green are greater color accents that give the bathroom a simple functional look. There's also nothing wrong with sticking to contemporary "ish" colors such as soft whites and creams.
Shower Updates
This depends a lot on shower design. Metallic shower frames have been hugely trending in 2018. The combination of glass and shiny metallic fixtures has also been found to work well in the modern bathroom, especially when a glass wall is used to separate the shower from the rest of the bathroom. Although the hanging shower curtains are functional and practical, while some will even brighten up the bathroom, try some of these glass shower partitions:
1) Frameless bathtub enclosures with decorative glass
2) Tub sliders with 90-degree return panels
3) Frosted glass panels and doors with customized abstract art
Sidewall Tiling Trends
The ceramic tiles and textures are the in thing in bathroom remodeling. You can give your bathroom a completely new look from different styles. Ceramic tiles come in a wide range of styles, including marble, granite, wood and slate styles. Ceramic tiles have a lot to offer because they are both durable and are also easier to maintain.
Rugs and Accessories
For a modern bathroom, vintage rugs will not only provide a simple approach when it comes to accentuating your bathroom, but it's a great way of providing a dash pattern. For the updated bathroom, the use of real long rugs on the floor has become a common phenomenon and it's really going well with a combination of hanging framed art on walls. High-tech accessories are the trending options, especially so for a modern bathroom. Consider heated flooring options, digital water temperature regulators, and asymmetrical wall accessories.
As you can see, it's been a great year that has brought a lot of changes. For great remodeling results, it's important to consult with professional contractors that won't let you down. And it goes without saying, that in a crucial, yet highly competitive industry such as home remodeling, you just have to ace your game. The above trendy ideas will definitely come in handy!
comments