No matter how chaotic your day is your master bedroom is the place you can retreat to each night and regroup. However, for many couples, their master bedroom is anything other than relaxing. The reasons for that can be many. For instance, you might not have a good design flow, which can make the space feel uncomfortable or cluttered. Or you might be trying to cram too much furniture into a small space. Whatever the reason there are four easy ways you can turn your master bedroom into a truly relaxing space for you and your spouse. Here are some ideas:
1.  Choose A Design Scheme
The first place to begin when re-designing your master bedroom is to think about what kind of look you are going for. Start with your color scheme. Do you want to stick with neutral colors? Or do you prefer to include more bright colors in the space? Then after you've decided on a color pallet, look for a new bedding set that flows with the design for the room. If you've chosen to include some brighter colors be sure to use them sparingly so the space doesn't become overwhelmed. For example, you could use a brighter color on your wall and opt for a white comforter set. Or you could paint your walls a cream color and use your bedding to add pops of color. You can make the room seem more inviting by choosing a comforter set that is soft and plush with plenty of throw pillows. You can even add a soft blanket to the end of the bed to add an extra dose of comfort.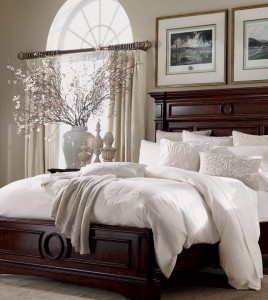 2. Minimize Your Furniture
No matter how big your master bedroom is, it will begin to appear very small if it is crammed full with too much furniture. You can make your master look and feel bigger by taking out what's unnecessary. For example, do you have 2 big dressers in your room? See if you can get rid of one dresser and combine your clothes. Your dressers are probably packed full of many clothes that haven't seen the light of day in years. Taking the time to go through your items might show you that you can easily survive with one dresser. And if you really can't get rid of it, you can also consider moving the smaller dresser into a closet.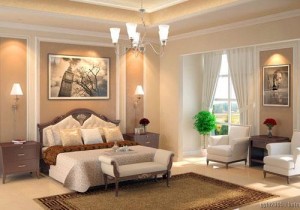 3. Simplify Your Decor
Another way to make your master feel small and cluttered is to have too many decorations. You can make your bedroom feel more spacious and relaxing by simplifying your decor. Stick with one main decorative statement and include a few other pieces that mesh well with that. For example, you could use 3D Faux Leather wall panels behind your master bed to create a plush headboard that will also act as the decorative focal point of the room. View a gallery full of 3D Faux Leather wall panels here. A 3D leather headboard could be beautifully accented by strategically placing some white flowers and candles throughout the bedroom.  Or you could place a white throw rug underneath your bed to create a modern look that still screams of comfort.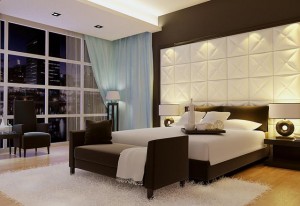 4. Add Some Extra Seating
Another way to make your master bedroom feel like more of a retreat is to add some extra seating. Put a loveseat at the end of your bed complete with throw pillows and a comfy blanket. Or make a reading nook with two chairs next to a window. The idea is to create a space that you and your spouse can't wait to run off to each night for some rest and relaxation.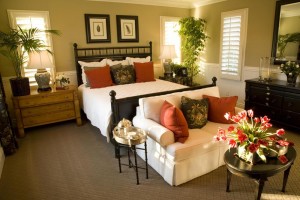 comments