It's high time to edit and customize your living room media center (T.V. wall) in a modern and modular way to get more and most of it. Clean up and kick off your old and rusty design of media center to accommodate the new one for a charming and sweet living area with amazing and spectacular media center installed to it. The modern media centers are equipped with the latest electric capabilities, cord cutouts, compartments and drawers to intelligently accommodate the smartest devices with a comfortable reach and well organized media center. Your living room should be a place of comfort and relaxation, the perfect space to do everything you like and wish for. Let's do it in your manner now…!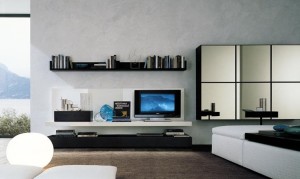 Break the old rules of television tables, side tables and sofa in front of them. Design a modular way of television wall to comfort your living room design and give an elegant look to it. Along with the media section do cleverly design the furniture racks, glass shelves, open racks, etc. to accommodate the needful of the media center wall. Design up according to your choice and preferences. You may go for grey and burgundy the tough combination but one of its own class and gives more of the visual space to your media center area. Cover up the furniture with burgundy and let the walls turn into grey for that superb and classy combination. Or let the wall of your media center take the touch of feminine waved wallpaper and to escort the beauty mix it well with rounded accessories and lacy window treatment.
Whatever you go for make it look compact, modular and stylish to match up well with your 42" LCD television. It is just not a television wall or a place to watch t.v. now a days its much more than that. One can play games, watch movies, enjoy old DVD and Cd collection. So make it up to mark to meet all your requirements and design plans.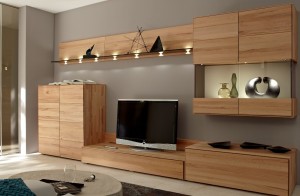 Apart from design concept and ideas do not forget to merge in proper combination of racks, shelves and drawers to it as there is no separate floor area to accommodate any cabinets to harm and waste the modular way of designing.  Keep few of the compartments as closed cabinets to hide up the few unwanted and messy things around. Give a proper and sexy shape to your media center with few of the class shelves or open glass racks. It's like putting in the royal touch to your simple but elegant design. For a complete media center package place in few pull out drawers and sliders. Let the drawers channelize smoothly with the design center and over all décor. Keep up all the design work, drawers, racks, shelves etc. well synchronized for the super harmonized visual impact and utility.
Last but not the least don't forget to merge up and glam it up well with perfect illumination effects where ever needed. Fix up under the cabinet lights, rack spot lights, shelves lights, behind the media background wall lights or base lights for those aesthetic dramatic illuminative effects. You may also add up few pebbles, herbs or indoor plants for a rough, rusty and natural look. Wall aquarium lovers may add up a small jar of wall aquarium to the media unit wall for that unique taste of personal touch and choices.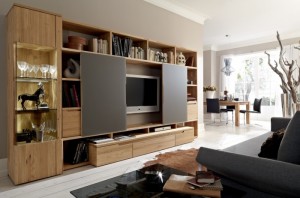 Media center and television is a special part of every dwelling so make it more prominent and impressive with your little and sweet hard work and designing efforts. Merely putting up your LCD on a living area wall doesn't make it a well-designed and awesome media TV wall of the living room or family room. Make it the most impressive and expressive focal point of your residence.

comments