The right solar panels can help you save money and look great on your roof. Check out our guide to solar panel types which will complement your home perfectly.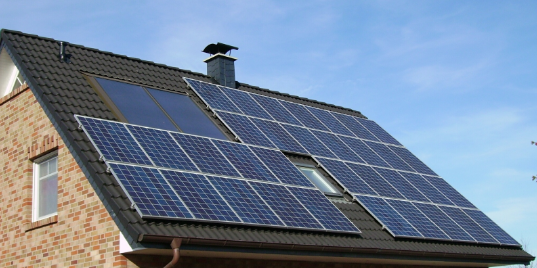 When you're interested in taking your home energy to the next level, there are plenty of cutting-edge improvements that you can make.
By learning the ins and outs of things like solar panels, you are better able to keep your home lean and green. You'll need to understand various solar panel types to make sure that you're buying what you need.
For a comprehensive guide to solar panels and how to get the most out of them, read the guidelines below.
Learn the Benefits of Having Solar Panels
Before you go solar, it's crucial that you really understand what you are getting.
For one, solar panels create a tremendous benefit to the planet. Instead of using fossil fuel resources to power your home, you're simply harnessing the power of the sun.
In many situations, you can also get some tax breaks for making such an energy-efficient upgrade to your household.
When you install some solar panels on your home, it'll also allow you to save money on your electrical utilities. On average, people pay approximately $1,400 per year on electricity alone. These costs add up, particularly in the summer and wintertime when energy bills tend to spike to deal with the weather conditions.
Conversely, buying solar panels allows you to power your home without even having an electrical bill.
Since you are not subject to an electric bill at all with solar energy, you will save a lot of money each month. Instead, you will be able to keep that money in your pocket and use it for home improvements or anything else you need in your life.
You won't have to deal with spikes in energy bills that take place due to taxes and other issues either. By knowing what to expect from your energy cost and performance each month and year, it's a lot easier for you to map out your finances.
Off the Grid Energy
Another great benefit of having solar panels is that you can still have lights on when everyone else is in the dark.
Solar panels store energy and keep it in reserves so that you can use it later. You won't be subject to the same power outages that everyone else in your area deals with. This gives you peace of mind during hurricane season and allows you to keep your electricity and internet online when you need it the most.
Now that you know the advantages of solar panels, it's important that you determine which types you would like to buy.
Find Solar Panel Types That are Pleasing to the Eye
There are many different solar panel styles that you can look into.
Since these panels are installed on top of your roof, you need to make sure it's aesthetically pleasing, rather than an eyesore. A lot of advancements have been made into solar panels in recent years so that they are not as conspicuous as first generation panels.
You can get an all-black wire-based set of panels that will blend right in with your roof design. These panels provide a slick finish to any home design and won't detract from the looks of your home at all.
There are also plenty of other stylistic options you can shop between. For instance, solar panel contractors can sell you a set of all-black panels that don't have wires, colorful panels, panels that are crafted to look just like tile, and panels that are installed inside of your roof.
It's important that you shop around until you find the type that best fits your tastes.
Look For the Right Solar Panel Based on the Way it Operates
Aside from style, you definitely need to choose solar panel types for functionality as well.
Some of the major types of solar panels include monocrystalline, polycrystalline, and thin film. There are a lot of pros and cons that you will want to know about these panels before you decide which ones you want to purchase.
For instance, monocrystalline panels are some of the most efficient on the market and give you a greater power yield. These panels happen to be a bit more pricey and subject to circuit breakdown.
Polycrystalline panels have greater temperature ranges and are cost-effective. These panels are a bit less efficient than monocrystalline panels.
Thin film solar panels are incredibly lightweight, but not as efficient as monocrystalline or polycrystalline panels.
Figure Out How Much You'd Like to Pay For Solar Panels
It's important for you to shop for a set of solar panels that are within your budget. Start searching the market to get a better idea of how much these panels will generally cost.
Installing these panels will typically cost you between about $11,000 and $15,000.
When you buy these solar panels, make sure that you are weighing the full price, including both parts and labor. You should take it a step further and make sure that you buy a warranty on the panels, along with a maintenance plan.
Find the Assistance of the Right Solar Panel Contractors
Finally, it is important that you be discerning when choosing your home solar panel contractors. They will show you the best solar panel types available to help you with your purchase.
By shopping around, you will be better able to get a great deal.
Are you interested in solar panels or any other green-friendly home upgrades? Check out our site to make the improvements that you need.
comments