Swimming pools are one of the best places to relax and unwind. Lounging by the pool area is the perfect activity during the summer days, especially if it is well designed and has convenient amenities. Gone are the days when pools are plain looking. We've evolved to a time that even pool areas contribute to the overall aesthetics of your property.
Here are some design ideas to have the perfect pool area:
1.Tweak the shape
You don't have to stick to the traditional rectangular, square, or round pools shapes. Don't hesitate to get creative! Pool builders like the Blue Lagoons Dallas can create unconventional pool shapes for you to fit your style, maximize your space, and make your pool experience better than before. Multiple shapes are even doable for indoor pool ideas. Some examples of pool shapes are:
Figure eight (8) pool – Both ends of this pool are round and the center is narrow. This pool shape allows the water to circulate and flow freely because of the soft round edges.
Roman-style pool – This is a rectangle pool but with rounded ends. This pool shape can go with homes and pool areas with classic designs.
Kidney-shaped pools – This shape has a retro touch and is a common favorite by many because it can fit various architectural designs.
2. "Wow" with waterfalls
Waterfalls have always been magical and pleasing to the eyes, so why not have one in your own backyard? The sound of water flowing and crashing over a surface is soothing to the senses and helps you relax after a long, busy day from work. Kids' will also get imaginative and creative with this design by pretending that they are in the middle of a jungle having an awesome adventure. You can customize your waterfall feature to adapt to the size and design of the pool.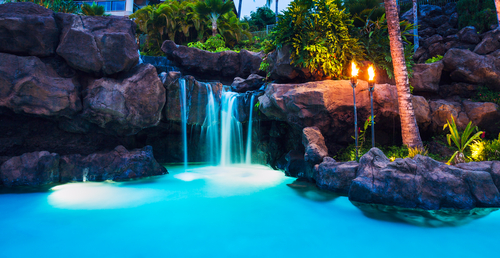 Here are some pool waterfall ideas:
A lifelike waterfall on rocks for that organic appeal
A waterfall surrounded by plants for a tropical vibe
Water falling on glass for modern and/or minimalist homes
You may also installed pool lighting to highlight your waterfall – perfect for evening swims.
3. "Play" with fire
Fire can be a spectacular focal point in your pool area. Not much space is needed, and it will give a soft glow when swimming at night. There are various ways on how to incorporate this element into your pool:
Poolside fireplace – Installing a fireplace beside your pool can keep you warm for those evening dips.
Torches – You can have one or two torches in the pool area, especially when you want to go for a more tropical vibe. You can light the torches as you desire.
Fire pits or fire bowls – Fire pits and fire bowls neat the pool give a more "outdoorsy" feel compared with fireplaces and are perfect as centerpieces.
4. Creative tile designs
If you're one of those pool owners who want to use tiles for practicality or aesthetics, you don't have to stick to traditional white or blue tiles. You can come up with a mosaic design or a pattern. You can even have decorative tiles for your pool. By using creative tile designs, you can give your pool area a new life without too much effort. Some areas where you can use creative tile designs include:
Pool walls
A feature wall
Pool steps
Pool floor as a centerpiece
5 . Central sunken bar
If you have a big pool area, you can have a small central sunken bar and enjoy your cocktails, beer, and other beverages while sitting on stools that are immersed in water. This design is especially charming if you have a round pool. Your next pool party won't need you to get out of the pool for a drink. How cool is that for you and your friends?
6. Fish tank pool
Another design that's getting attention is the fish tank pool. A fish tank pool is a pool that looks like an aquarium that you can swim in. These are usually aboveground pools with glass walls, but inground pool designs are also possible. This may take a bigger budget and area, but it's nevertheless a very interesting design to try if those factors are not a huge concern.
7. Let the light shine
Lighting is a crucial design element in any part of the house, even in your pool area. Proper lighting is extremely helpful because it allows safe swimming at night. Lighting can also influence the ambiance of your pool area. Some ideas are:
Underwater lights – Underwater lighting for your pool will make your pool glow. It gives the illusion of a bigger, deeper space, even if your pool is small. You can install multicolored lights if you wish.
Spotlights – Installing yellow and white spotlights around your pool area, especially near or among the plants, can create a relaxing ambiance for a nighttime swim.
Lane lights – Are you swimming laps at night? You can add lane lights to your pool, too.
Deck lighting – This is an option if you don't like underwater lights.
If you have a room for a pool, make the most of it. There are so many possible designs you can choose from, and custom-made pools are possible with almost all pool services. The only limit is your imagination. Work with professionals to make your dream pool area come to life.
comments