If you cringe when you walk into your kitchen, it might be time to add a little excitement with some fabulous upgrades. It's not necessary to spend a year's worth of college tuition to update this space, unlike popular opinion. By selecting key areas to invest in, you'll change the look and feel of the busiest room in the home. Your investment return could be higher than 70 or 80 percent if you decide to sell soon afterward. Start crunching your budget numbers and get started with updates today.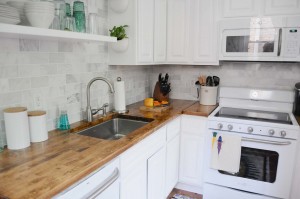 Thousands of dollars are often invested in brand new cabinets and installation. Avoid this pitfall with a fabulous upgrade for less cash. If you have wood cabinets, for example, refinish the doors only. Stain or paint them as your decor dictates. Most of the cabinets' visible surface area are the doors so freshening these parts gives the entire kitchen a new appearance. Here are some beautiful kitchen cabinets.
New Hardware Pays Off
 Cabinet hardware from the 1970's still shows its age even if it's defined as "vintage." Evaluate your kitchen hardware, especially if the doors are being upgraded. Replacing the hardware is simple and relatively inexpensive. Even inspect your kitchen faucet. Replacing this main hardware part also boosts value and functionality as everyone uses the sink throughout the day.
Replace that Old Counter top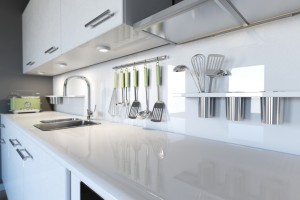 Countertops with gouges and peeling layers are a signal that the kitchen isn't updated at all. Replace the countertops entirely. Use granite or even tiles. Although this upgrade is expensive upfront, choose a material that's reasonable for your budget. With a little care, the countertop will last for a decade or more. It also creates a focal point for visitors or potential buyers. Here are examples of colorful kitchen countertops.
Got Light?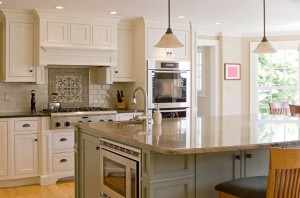 Kitchens with fluorescent lighting were commonplace several decades ago and many homes still use their fixtures. Switch out the glaring fluorescents with under-cabinet lighting and recessed fixtures in the ceiling. You'll have gorgeous illumination across the preparation space as you entertain and cook amazing dinners. Consider dimmable lighting as well to completely control the kitchen's decor theme.
Flooring Difference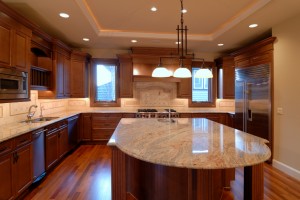 Look down at that old linoleum. Try to picture a different flooring style down there, such as tile or even laminate. It's even possible to roll new linoleum right over the old one. Today's styles often mimic expensive flooring options, such as wood, without the necessary care. You'll still have an easy floor to clean after messy cooking preparations.
 It's the Little Details
 When you can't afford to buy a new refrigerator or oven, look for smaller additions to the kitchen that add interest and value. A new microwave, toaster or blender are clever ideas to gussy up the kitchen counter without breaking the bank. Visitors and potential buyers will look to those items with interest instead of fixating on older major appliances.
 That adorable stainless steel waffle iron or requisite toaster oven adds personality to an otherwise basic kitchen space. These interesting points of interest grab buyers' attention, for instance. Although you may just want to have a modern decor for yourself and guests, updating any kitchen adds some value for future gains. For more kitchen ideas check out Modernize.
About the Author:
This article is submitted by Jane Blanchard who is a writer at Modernize 

comments