Check 1000+ Mind Blowing Front Elevation Ideas click here
1 BHK is typically a building that has 1 Bedroom, 1 Hall and 1 Kitchen. This 1BHK could either be a flat which is called as 1BHK flat or it can be an apartment which is popularly known as 1BHK apartment. There are many property sites that has various listings of 1 BHK flat for rent or 1 BHK apartment for rent. Some people would also search for 1 bedroom apartments for rent or 1 bedroom apartments or 1 bedroom flat to rent.
The property renting has become very popular and common these days which is listed in various India property websites. The image below shows a typical 2D layout of a 1BHK Floorplan .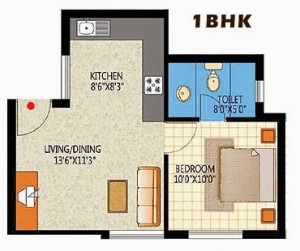 This is the typical kind of visualization tool to show the customers how each rooms inside  the 1BHK really is. Most of the property portals, Builders, Architects and Interior Designers use this as a tool to showcase the home interiors.
For More Home Design Ideas Please here
However if there could be an other option where you can get a feel that you are already inside the house and can have an entire 360 virtual tour of the house by yourself rather than just watching a video or an image how good it would be.
Introducing Ghar360 – An online platform to visualize your dream home. If you are planning to buy a new home or home customization you can very well use this tool that allows you to easily drag and drop various components for the house and view that on real time 3D .
You can now design your own floorplan for FREE by clicking here
Ghar360 Features : 
– Real Time 3D Visualization
– Do it Yourself
– Convert 2D to 3D in less than a Minute
– Easily integrate it on any websites, blogs, pages, etc
– User Friendly drag and Drop features
If you want to get yourself a 3D Floorplan from 2D drop in an email to contact@ghar360.com for more details
Also Read: 3D FLOORPLAN LAYOUTS

comments